Description
The Catamount Trail is a 300-mile backcountry ski trail that runs through some of Vermont's most scenic winter landscapes from Massachusetts to Quebec. For most of its length, it is a winter-only trail. It travels over ungroomed trails, through groomed ski areas and aligns in some parts with snowmobile trails. There are also short road walks in some sections.
The difficulty of the trail is highly variable. In some sections, the terrain is quite easy an approachable, while in others technical skills are necessary. The Catamount Trail Association splits the trail into 31 sections and provides descriptions of each section as well as downloadable maps and elevation profiles at their website.
Although it is possible to ski the trail end-to-end, most people choose to use the Catamount trail in day or overnight trips. There are multiple self-guided or led tour recommendations at the Catamount Trail Association website.
Other Information
Groomed Ski Centers - When you enter the trail system of a cross-country ski center, please check in at the center. Skiing the Catamount Trail does not exempt you from paying a trail fee at the center. Each center has its own policy; some may allow you to ski free, others may charge a fee. Bring along your CTA membership card/coupon to get a discount if you have to pay a fee. Please adhere to each center's policies. Also note that most touring centers do not allow dogs on their trails. Plan your trip accordingly if bringing a canine friend along.
Sharing the trail - The Catamount Trail is primarily managed for cross-country skiing, but snowshoes are welcome. When snowshoeing on the trail, travel in single file, stay on one side of the trail to allow skiers to use the other, avoid stepping on the ski track and if at a cross-country ski center, abide by the rules of the center.
Snowmobile Trails - The Catamount Trail uses many snowmobile trails through the generosity of the Vermont Association of Snow Travelers (VAST). Skiers should step off the trail to allow snowmobiles to pass. VAST membership dues pay for the maintenance of these trails. If you will be regularly skiing sections of the Catamount Trail that use parts of the VAST trails, please consider supporting the maintenance of these segments by joining VAST. Contact VAST at: 26 Vast Lane, Barre, VT 05641, 802.229.0005
Private Landowners - Much of the Catamount Trail passes over private land. Please respect the rights of landowners and stay on the blazed route. In addition, keep your dog on the trail (have a leash with you!) and carry out any trash that you make or see. If you run into any problems, please contact the Catamount Trail Association.
Trail Manager
For more information and for detailed maps and descriptions, go to the Catamount Trail Association website or contact: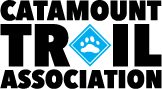 Catamount Trail Association
1 Mill Street, Suite 350
Burlington, VT 05401
Phone: 802-864-5794
View website