Description
Winter Use Only
The Camels Hump Nordic Ski Area (CHNSA), in collaboration with the Catamount Trail Association, maintains over 40 miles of groomed and backcountry trails between the Winooski River and the Camel's Hump Road in Huntington, by arrangement with over 30 landowners. They regularly groom 12-16 miles (currently about 30km) for both classical and skate skiing. This area is a lovely place with beautiful woods. Groomed trails range from easy field loops to moderate, while the backcountry terrain ranges to more challenging backcountry steeps.
The CHNSA's network is also a part of the Catamount Trail system – a skiing trail that runs the entire length of the state of Vermont.
Snowshoeing: Snowshoeing is allowed, but please keep to the edges of the groomed trails.
Other Information
Remember to sign in after you have your season or day membership. Trail fee of $10 and sign-in provides a day of membership, using an honor system arrangement.
Please respect the CHNSA "no-dogs" policy.
Trail Manager
Visit Camels Hump Nordic Ski Area online for more information and a printable map or contact: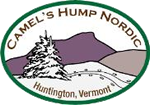 Camel's Hump Nordic Ski Center
PO Box 43
Huntington, VT 05462
Phone: (802) 735-5490
info@camelshumpskiers.org
View website