Description
The southernmost 30 miles of the Catamount Trail are also some of the easiest. The trail follows a mostly easy grade along the scenic Deerfield River and Harriman reservoir. There are a few short hills that can be walked, if needed. There are also some sections of snowmobile trail and a short road walk. Take care on river crossings.
To reach the border with Massachusetts, you must ski south from Harriman Station. The property south of the MA-VT line is private and not open to the public. Please do not proceed past the boundary marker.
Although the grade in this section is relatively easy, it is also ungroomed. Plan for extra time if there has been recent snowfall.
The Catamount Trail Association also provides detailed section-by-section route descriptions on their website.
Please note that the Catamount Trail is open only in the winter.
Other Information
Sharing the trail - The Catamount Trail is primarily managed for cross-country skiing, but snowshoes are welcome. When snowshoeing on the trail, travel in single file, stay on one side of the trail to allow skiers to use the other, avoid stepping on the ski track and if at a cross-country ski center, abide by the rules of the center.
Snowmobile Trails - The Catamount Trail uses many snowmobile trails through the generosity of the Vermont Association of Snow Travelers (VAST). Skiers should step off the trail to allow snowmobiles to pass. VAST membership dues pay for the maintenance of these trails. If you will be regularly skiing sections of the Catamount Trail that use parts of the VAST trails, please consider supporting the maintenance of these segments by joining VAST. Contact VAST at: 26 Vast Lane, Barre, VT 05641, 802.229.0005
Private Landowners - Much of the Catamount Trail passes over private land. Please respect the rights of landowners and stay on the blazed route. In addition, keep your dog on the trail (have a leash with you!) and carry out any trash that you make or see. If you run into any problems, please contact the Catamount Trail Association.
Trail Manager
For more information and for detailed maps and descriptions, go to the Catamount Trail Association website or contact: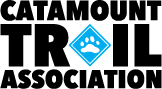 Catamount Trail Association
1 Mill Street, Suite 350
Burlington, VT 05401
Phone: 802-864-5794
View website