Description
The Hanover Conservancy conserved this area in 1999 in partnership with Upper Valley Land Trust, Dartmouth College, and the generosity of the Hanover community. The Mink Brook Nature Preserve offers a natural retreat just south of downtown Hanover. The predominant natural community is upland forest composed of white pine and hemlock. The property features two brooks. The smaller of these is Trout Brook, which winds northward to join up with Mink Brook. Mink Brook is a direct tributary to the Connecticut River. Many of the paths within the Preserve parallel Mink Brook and pass by pool and riffle areas of this dynamic boulder filled watercourse.
Visitors to Mink Brook Nature Preserve can now enjoy easier access to both sides of the preserve! The new bridge connects the Quinn Trail with the trails on the southern portion of the property, including trails that connect with Buck Road in Hanover, Indian Ridge in Lebanon, and a trail to Sachem Village in Lebanon.
Wheelock Trail: 1.25 mile moderate terrain trail along the banks of Mink Brook. Named for Eleazer Wheelock, the founder of Dartmouth College. Remains of Wheelock's mill can be seen across Mink Brook near the eastern trailhead. Begins as a wide-open trail under a power line at Route 10. Becomes a narrow path that clings to the wooded bank above rushing Mink Brook in the Mink Brook Nature Preserve and beyond to Buck Road.
Quinn Trail: 0.75 mile easy trail from Brook Road that follows a sewer line. The first 0.25 miles of the trail is wide (4-5 feet) and flat, with a surface of dirt and woodchips, suitable for off-pavement wheelchairs and walkers with balance issues. At the sharp bend 0.15 miles into the trail there is a steeper grade for about 10 feet. The Norman Overlook is 0.25 miles along the trail. The Overlook has a seating area, which easily accommodates wheelchairs, and provides a pleasant spot to take in the view. Shortly beyond the Norman Overlook the Quinn Trail becomes steep and is frequently muddy.
Tanzi Tract Loop: 0.3 mile easy trail visits rich native vegetation and tumbling Mink Brook. Almost level, but narrow, trail. Good for wildflowers and a view over a scenic rocky section of Mink Brook.
A direct link to the detailed trail map for Mink Brook is posted at: http://www.hanoverconservancy.org/lands/mink-brook/
Other Information
Animals and Fish: Mink Brook is an important watercourse and wetland corridor for mink, otter, muskrat, beaver, black bear, and many other critters. Also living at the Preserve are white-tail deer, foxes, coyote, weasels, raccoons, squirrels, chipmunks, and other small rodents. The brook is home to several species of fish, and is a popular spot for watching the spring white sucker spawning run in late April. Other species include brook trout, creek chub, black-nosed and long-nosed dace, and common shiner.
Birds: Mink Brook Nature Preserve offers excellent bird-watching. More than 70 species have been recorded in the area, making it a favorite spot close to town.
Flowers: Mink Brook Nature Preserve is a popular destination to see wildflowers and ferns. There are more than 130 native species of herbaceous plants and over 20 species of ferns. Red trillium and jack-in-the-pulpit are just two of the many species you can see here. The Council leads annual spring wildflower walks at the Preserve.
Trail Manager
Visit Hanover Conservancy online for more information and a printable map or contact: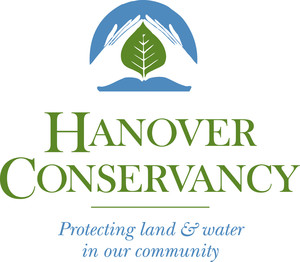 Hanover Conservancy
71 Lyme Road
Hanover, NH 03755
Phone: (603) 643-3433
info@hanoverconservancy.org
View website

Hanover Trails Committee
41 South Main Street
PO Box 483
Hanover, NH 03755
Phone: (603) 643-0742
hanovertrails@gmail.com
View website