Description
The Fairgrounds trails loop on both sides of VT-140. The majority of the trails are singletrack, but there are doubletrack connections as well. The easier trails are closer to the trailhead while the longer loops are rated more or very difficult. Although the trails were built for mountain biking, hiking, running and snowshoeing is also allowed. Please be aware of other trail users as you enjoy these trails. The Midway doubletrack is not recommended for bikes.
The trailhead has a porta-potty, but no other facilities.
Other Information
Trail Network Guidelines:
Welcome sunrise to sunset
Share the trails... bikers yield to hikers
Practice

Leave No Trace ethics

Stay on marked trails
No motorized vehicles or horses
No camping or fires
Cell phones may NOT have service at the trailhead, or on parts of the trail network! Familiarize yourself with the map, have a map with you, and/or have the map available offline in your mobile GPS App.
Respect private property
Deer hunting is allowed on this property. Please follow these recommendations during hunting season:
The following trails are closed during rifle and muzzleloader season:
Cliffhanger
Freefall
Loop-the-Loop
Midway
To Morse Hollow
For your own safety and out of respect for hunters - please abide by trail closures.
Trail Manager
Volunteers, membership dues and donations made these trails possible. If you enjoyed the trails, please consider supporting Slate Valley Trails.
For more information, visit the Slate Valley Trails website or contact: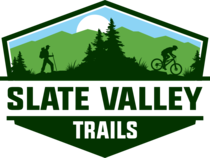 Slate Valley Trails
Andy
P.O Box 242
Poultney, VT 05764
info@slatevalleytrails.org
View website