Description
These beautiful trails are entirely on private property and are open to the public through the landowner's generosity and their partnership with Slate Valley Trails. The majority of the trails are singletrack and designed for mountian biking. However, the trails are open to any non-motorized use including hiking, running, and snowshoeing. Once you reach the highest point on Hardy's Hill the views of Lake Saint Catherine are amazing, and so are the fast berms and rolls as you head back down the long descent. Please do not ride the trails if they are wet and tire ruts are visible.
Other Information
Slate Valley Trails (SVT) is a volunteer community group founded in 2015. SVT is a registered non-profit organization and a chapter of the Vermont Mountain Biking Association (VMBA).
The SVT mission is to build, maintain and promote foot and bicycling trails in the Slate Valley region of southwestern Vermont.

Our goals are to:
1) Build community among local individuals, organizations and businesses.
2) Support the local economy by promoting the region as a place to visit, with improved access to trails.
3) Encourage the positive health benefits of being active outdoors.
​Volunteers and new members are welcome! Become a member or sign up for our emails
Trail Manager
For more information, visit the Slate Valley Trails website or contact: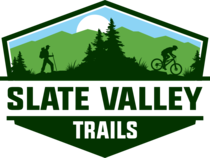 Slate Valley Trails
Andy
P.O Box 242
Poultney, VT 05764
info@slatevalleytrails.org
View website