As snow begins to blanket the hills and mountains of New England, it may be tempting to hole up inside next to the wood stove with a book or a movie. However, there is no reason to think of winter as the "indoor season."
In many respects, it is the best time to get outside!
Frozen ground allows us to access places impossible to see in the summer. You can see farther across the beautiful landscape without leaves blocking your views. Snow makes it not only possible, but necessary, to use skis, snowshoes and sleds to move through the woods and trails and provides the medium for gleeful, gravity-aided glide when you get to go downhill.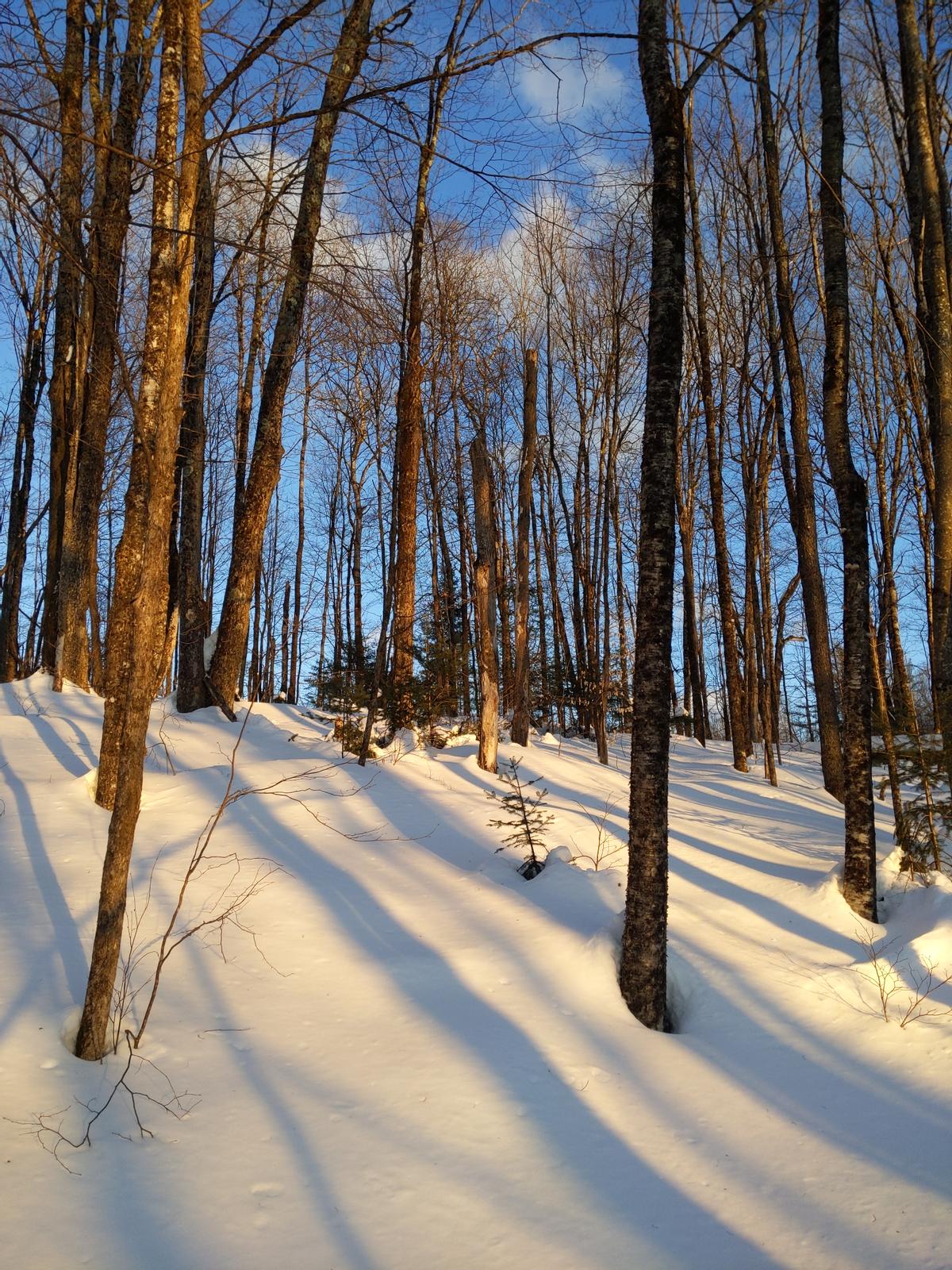 Sunlight on the snowy ground is one of the joys of the winter woods.
Clothing
Of course, there are challenges to getting outside in the winter. The first step is to be prepared before you even step out into the chilly air. Wear layers, especially if you are going to be active. It may feel cold at the trailhead, but as your heart rate increases, you will quickly warm up. You want to avoid sweating because the moisture makes you cold if you stop, so be sure to take layers off as you start to generate heat.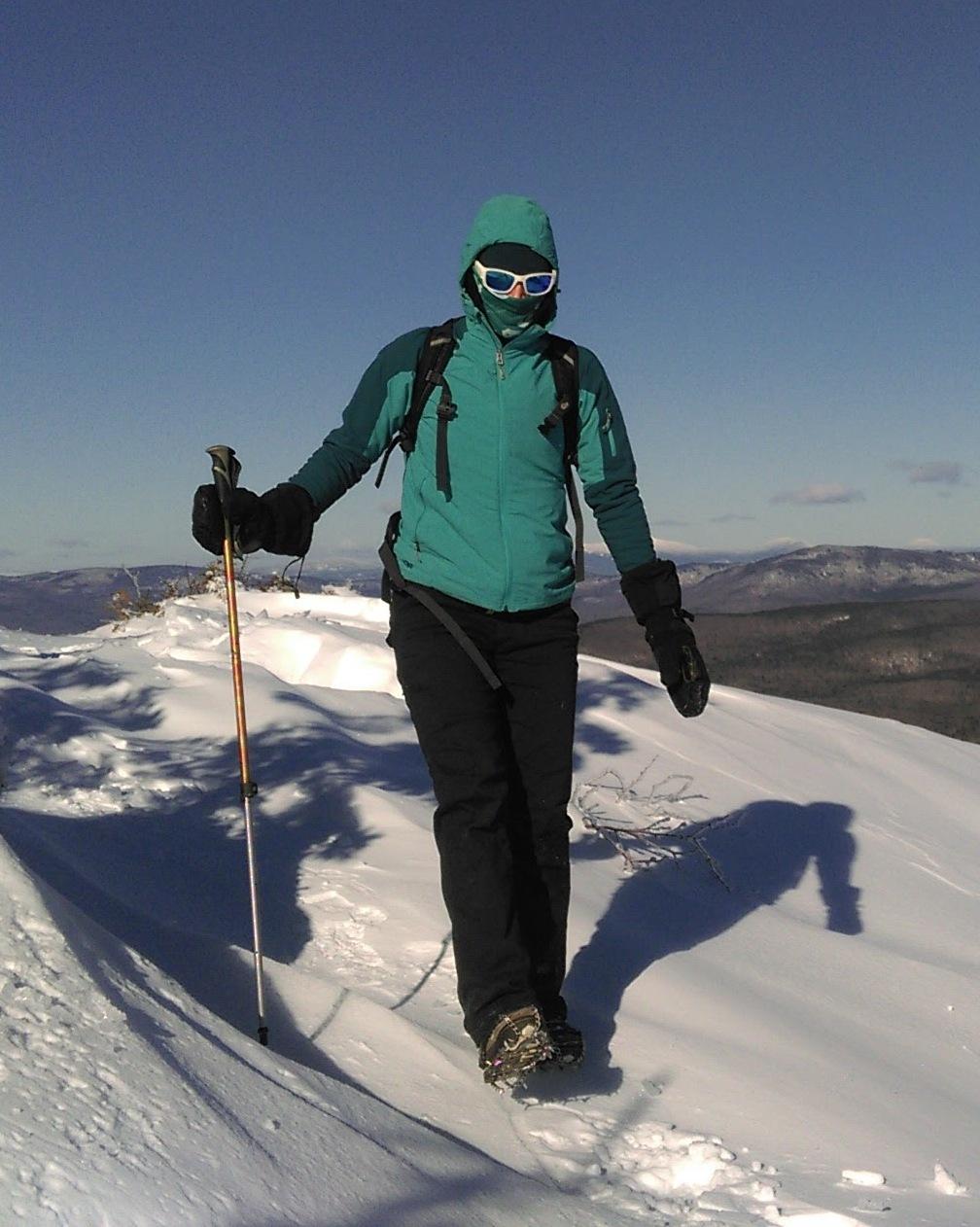 Extra layers (and mini-crampons) are especially important when your destination is exposed to the wind, like a summit, ridge or viewpoint.
Extra layers are important too! Stuff some insulating and windproof layers in your pack for when you stop moving. Don't forget your extremities -- mittens are warmer than gloves and hats are warmer than headbands. Neck gaiters are a great way to stay warm (and protect yourself and others from COVID when worn doubled up and covering both your nose and mouth). Wool socks are much better at keeping your feet warm than cotton. You will also want waterproof footwear. Gaiters (this time for your ankles!) are a great way to stop snow from getting inside your boots.
Bring water (hot or cold!) and don't forget to drink it. Storing your water bottle upside down in your pack (perhaps in a cozy sock) will keep the mouth of the bottle from freezing. Snacks are important too because your metabolism is working hard to keep you warm - you will get hungry! Make sure you have enough extras of everything so you can stay warm in case of emergency.
Gear
You will also likely need some gear, but don't get overwhelmed by all the choices. Try renting first and build from there. If you are going for a walk on a sidewalk or plowed trail in town, you don't need anything new. However, if it is icy, you may want to bring mini-crampons or micro-spikes, metal spikes or coils attached to rubber that stretches around your boot and adds traction at the sole.
On trail, you may need snowshoes so you don't sink into the snow. Snowshoes can be plastic, metal or wooden and the size depends on how heavy and tall you are. Some people like to use trekking poles when they snowshoe.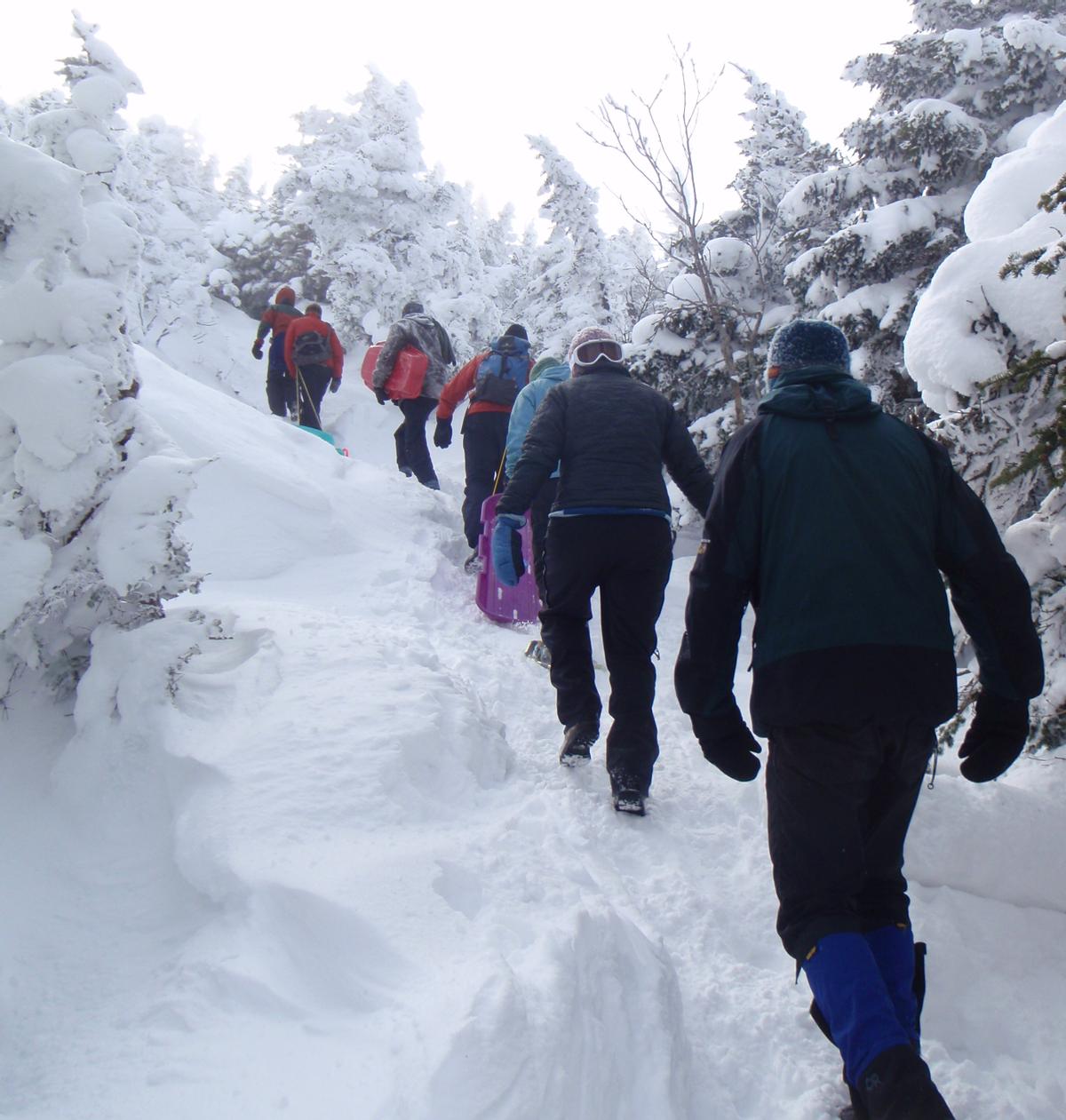 Sometimes trails are packed down enough that you don't need snowshoes. You probably want to bring them just in case though!
Finally, if you want to ski, there are many options depending on what type of terrain and trails you intend to explore. Narrow racing or touring skis fit into tracks on groomed trails while wide, metal-edged skis are more suitable for ungroomed trails. If you haven't skied before, you probably want to start out at a touring center and try renting skis before you invest in buying a pair.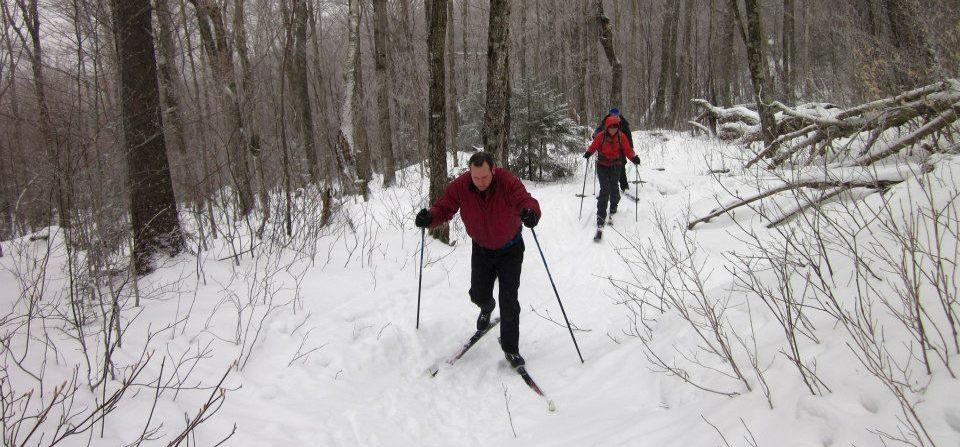 Skiing on an ungroomed section of the Catamount Trail.
Finding the Right Trail
Next you need to decide where to go. The majority of hiking trails are open for snowshoeing in the winter. However, sometimes the trailhead is in a different location than in the summer. Plan ahead and be sure to check out the Details and Directions tabs on the Trail Finder detailed trail page to make sure the roads to the trailhead are plowed and winter access is allowed. There are also some trails that are open only in the winter -- make sure to check them out before the snow melts again!
The state of Vermont has many fantastic winter destinations. At Willoughby State Forest, there are groomed ski and snowshoe trails, as well as managed backcountry ski glades -- something for everyone! It is particularly fun to find views of the lake from places that are obscured or inaccessible in the summer.
Seyon Lodge State Park is the only state park that remains staffed in the winter (many others allow winter access, but may not plow or provide parking). The ski and snowshoe trails start from the lodge and loop around Noyes Pond. If the lodge is open, you can stop in for some cocoa after exploring the trails!
At Beaver Meadow in Mt Mansfield State Forest, you can ski up to two first-come, first-serve lodges (more on backcountry cabins below). Part of this ski aligns with the 300 mile Catamount Trail - a winter-only trail from Massachusetts to Quebec. Farther south in Vermont, the Tamarack Notch Trail at Aitken State Forest is great for ungroomed cross country skiing.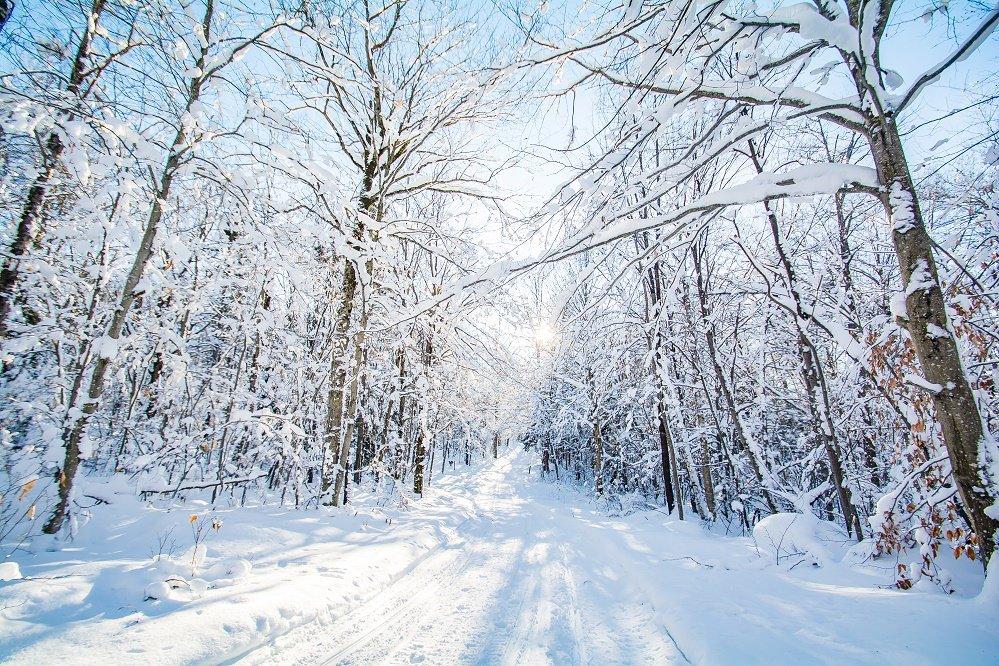 Winter at Seyon Lodge State Park. Photo credit: VT State Parks
On the Trails
Once you are out on the trail, you can enjoy the beautiful winter landscape. If it recently snowed and the trail is obscured, make sure to look for blazes on the trees to follow the trail. Remember to look down -- in some places the snow will be so deep that eye level in the summer is knee level in the winter!
As always, be respectful of other trail enthusiasts. Everyone has a different level of comfort and skill -- make sure to allow plenty of room between skiers on downhills, in case someone falls. If you are snowshoeing on a ski trail, stay on the edge of the trail and don't walk over the tracks (grooves pressed into the snow by the groomer). Check out our Considerate Skier post for more tips on winter trail etiquette!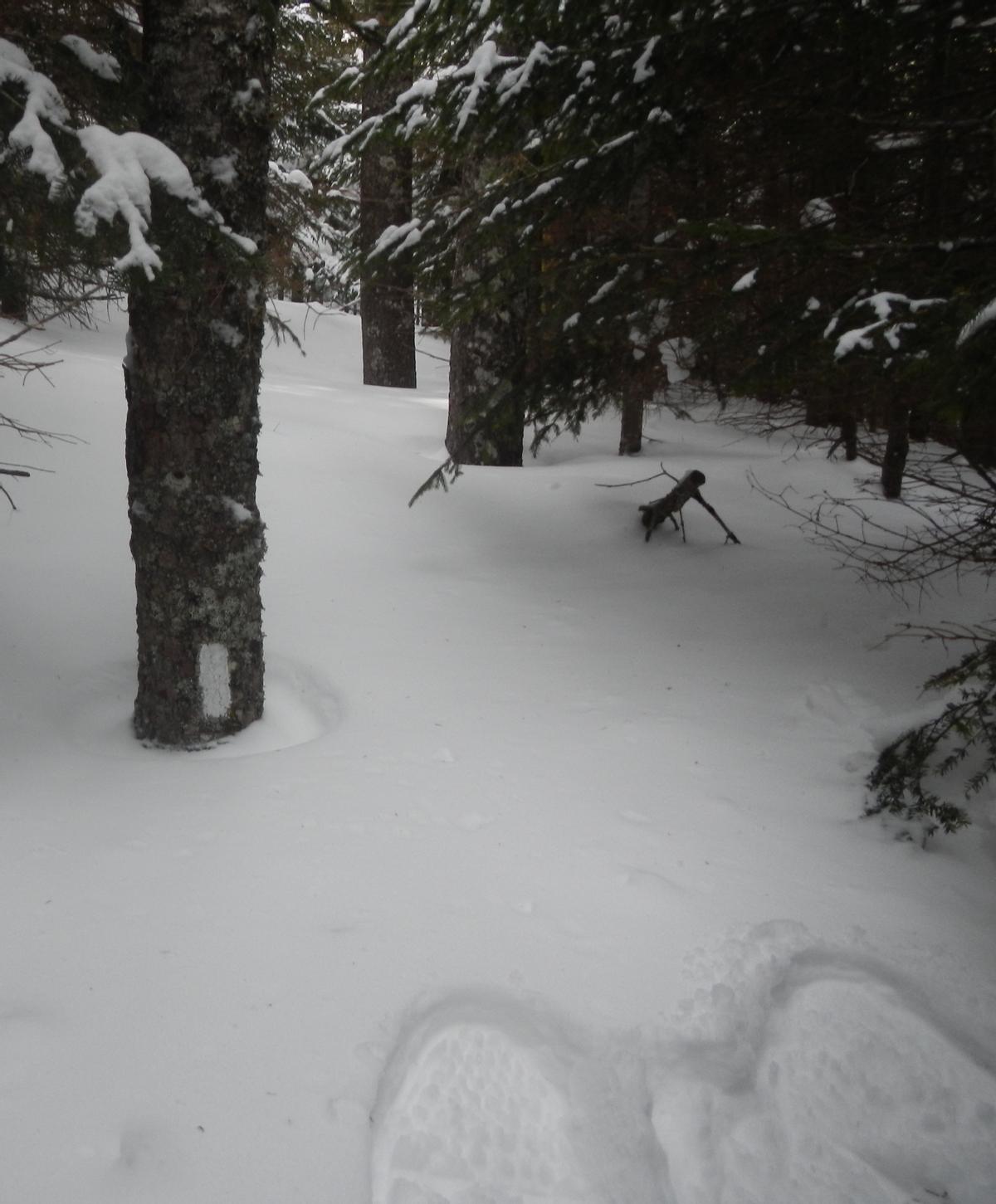 Sometimes blazes are at surprising heights in the winter!
Pay attention to time and always remember that days are short in the winter. Snowshoeing takes longer than hiking and depending on your skills, going downhill on skis doesn't necessarily mean you are going faster. Make sure to choose adventures that are within your ability level. As you get more experience, you can try harder trails. Throw a headlamp (with fully charged batteries and some backup batteries!) in your pack in case you get caught out after dark.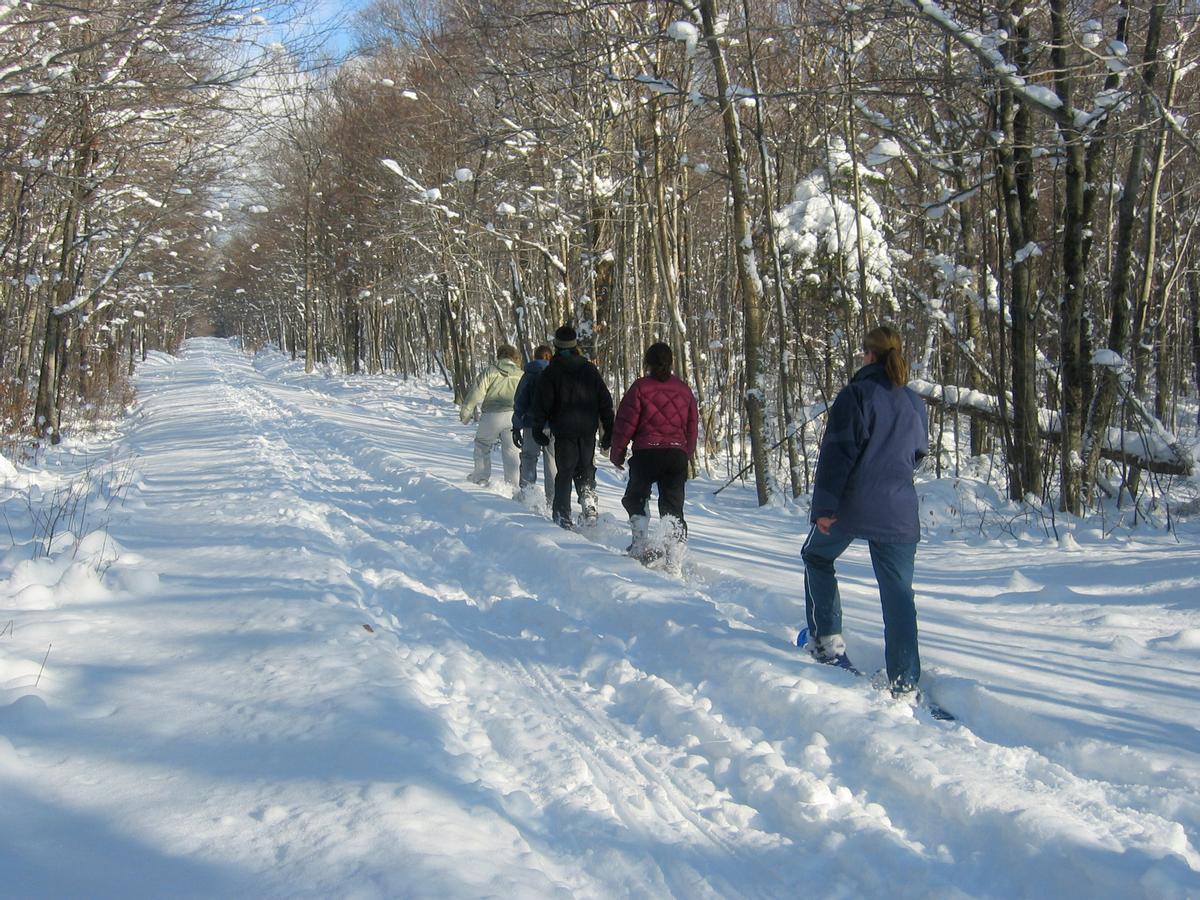 Good winter trail etiquette - snowshoeing away from the established ski tracks.
Many places have cabins or warming shelters along the trail. On state lands in Vermont, such as on Bald Mountain or at Beaver Meadow, the cabins are first-come, first-serve and are not staffed or regularly cleaned. If you choose to use the cabin, keep it clean, leave it better than you found it and pack out all your trash. If there is a stove or if you have a fire, use the firewood provided or gather only dead and downed wood - do not cut live trees! For more information on state lands, shelters and COVID, visit the Vermont Forest, Parks & Recreation website.
Other trail managers may have different policies for their warming and overnight shelters. Check with them before you go!
We only get a few months every year to explore snowy trails before temperatures start to rise and mud season kicks in. If you get outside and have a positive attitude, along with some warm clothing and adequate gear, winter will be full of laughter and joy.

Returning home after a wintery day on trail