During the pandemic it's more important than ever that we get outside, for the sake of both our physical and mental health. As we head into a winter with COVID-19, what we need is a fun family-friendly way to enjoy the great outdoors, that will keep us warm, easily allow for physical distancing, and encourage the use of facial coverings… cross-country skiing satisfies all these conditions! Whether skiing at a nordic center with extensive groomed trails, at your local golf-course in tracks set by your neighbors, or through the woods deep in the backcountry, skiing can serve as your gym for physical exercise, your hometown hub for socializing (only if allowed by current regulations, of course), and as a beautiful escape from screen time.
Even outside, however, there is still a risk of COVID-19 transmission as you encounter other skiers. However, if you follow the tips below, you can ski this winter while minimizing that risk.
Be Prepared
When choosing trails on which to ski, familiarize yourself with the type of terrain you will encounter, and know your own limits so that you stay safe and don't end up miles away from the trailhead on a difficult trail without the energy to return. Some factors to consider include equipment, trail length, elevation profile, whether the trail is groomed or not, and the quality of the grooming and preparation of the trail.
Dress in layers, and bring along an extra layer or two, snacks and water, and survival essentials if skiing in the backcountry. To protect yourself from COVID, throw some hand sanitizer and/or wipes (at least 60% alcohol) in your pack or pockets as well, to use before and after you touch any public surfaces. If you use wipes, pack them out in your pockets or a small baggie and dispose of them in a trash can at home.
Most ski trails are open, but the pandemic and guidelines change often, so always check to ensure you will in fact be able to access the trails on which you plan to ski. Even if the trails are open, some facilities may be closed, or there may be extra COVID-related guidelines, such as limitations on numbers of people who can visit each day, or where you can park. In Vermont, cross country ski centers must follow the ski area guidelines for COVID-19 safety. Know before you go so that you don't end up in any unplanned and unpleasant predicaments.
In order to more easily maintain physical distancing, avoid peak-use times - think 10am-4pm on a Saturday - and instead go early, go late, or head out skiing midweek. Before leaving home, determine a plan B, or even a plan C. If the parking lot is full at your desired trailhead, come back another time and continue to another nearby trail.
Trail Finder allows you to search specifically for ski trails (groomed cross-country, ungroomed cross-country, or backcountry skiing) and for trails near a given location, which can help you find alternative adventures in case the parking at your first choice location is full.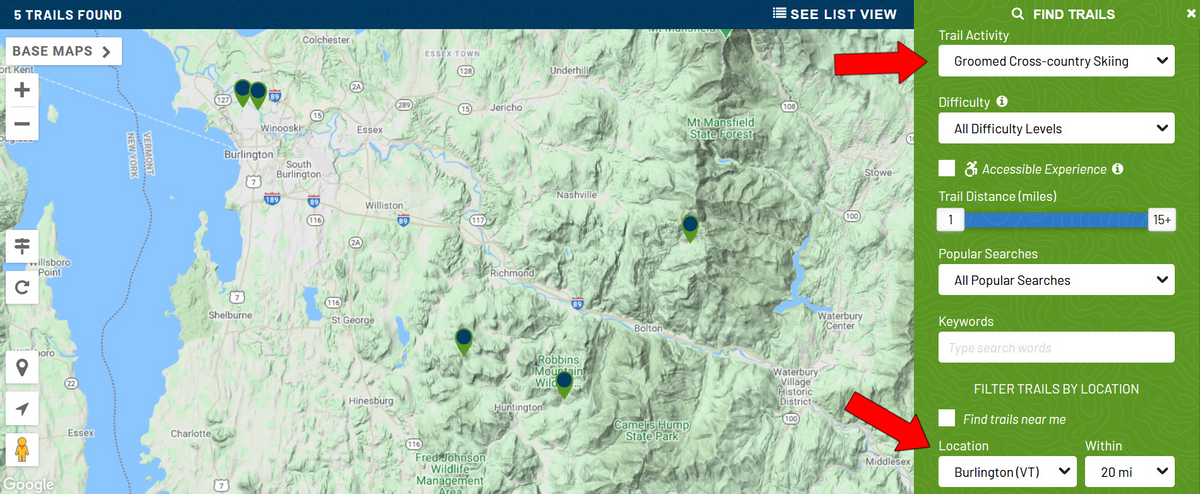 If you plan to ski at a ski center at which passes are required, purchase them online in advance of your visit. Some ski centers are relying on outdoor ticket windows and encouraging online purchasing, such as Bolton Valley in central Vermont which has closed its indoor ticket counter. Others may be selling tickets online only and/or require advance reservations to help manage the number of visitors, such as Kingdom Trails in Northern Vermont which has closed its Visitors Center entirely.
Mask Up
One advantage about heading out into the cold weather during the pandemic is that there is a good chance you may wear a scarf or facemask for warmth, which can also serve double-duty as your face-covering to reduce COVID transmission. If you don't usually ski with any kind of facemask, now would be a good time to try it out, maybe you'll discover you like the additional warmth for your face!
Regardless of whether you have a balaclava, neck-gaiter (one that can be effectively pulled up over your mouth and nose and stay there), a medical mask or other mask designed to stop COVID transmission, be sure you have some way to cover your face. Utilize your face covering, ensuring your mouth and nose are both covered, when you pass other skiers on the trail, or while in the parking lot or at the trailhead if there are many others preparing for a ski. If you enter a lodge, restrooms, warming hut, or any other facilities, mask up!
Keep Your Distance
Maintain the 6 feet away physical distancing rule before, during, and after your ski. If you pause to rest or apply a bit of kick-wax, move out of the tracks and/or off to the side of the trail so that others may pass by at a distance. If you pass another skier from behind, announce your presence to alert the other skier and give them time to adjust if needed, make sure there's nobody coming down a hill from the other direction, and then pass at the other side of the trail. Down hill skiers have the right of way, as they are likely moving faster and it is more difficult for them to stop.
Some facilities have instituted one-way directions on their trails during COVID. Carefully observe any such directional signs to help minimize interaction with other skiers.
Boot up in your car. If you are visiting a ski center with a lodge, the lodge may limit how many skiers can be in the building, or be closed entirely. Even benches or an outdoor shelter at the trailhead are best avoided; by gearing up in your car you will avoid contact with these surfaces that could transmit the disease. If you utilize a lodge or indoor space, plan to leave all your belongings in your car, as most likely you will not be allowed to leave your boot bag, lunch cooler, or other belongings in public buildings.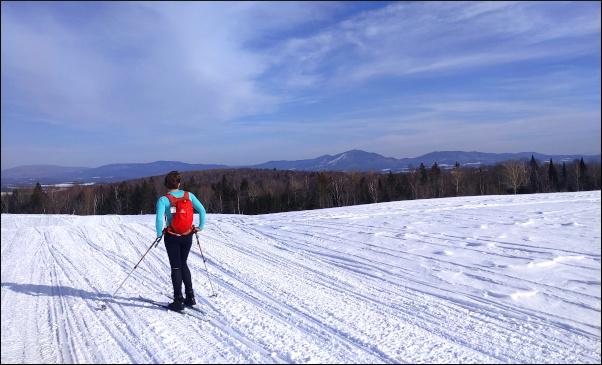 Keep your groups small. Large groups are not only risky for you and those in your party, but also make it difficult for others to pass by you at a distance on the trail. Don't carpool with people outside your household, When you arrive at your destination, avoid lingering and congregating in the parking lot or at the trailhead.
Do you skijor? There's no reason not to bring your dog along to trails on which they are allowed (many groomed ski trails prohibit dogs to better preserve the surface and tracks), but they need to social distance as well. Avoid letting your four-footed friend off their line, and clean up after them - don't forget a poop bag!
Respect Guidelines
The trails and trail centers at which you plan to ski likely have their own COVID-related guidelines. Many facilities have limited how many people can be in a given building at one time. Outhouses and warming huts may have guidelines related to their use due to the pandemic. It's not just ski centers, but backcountry trails such as the Catamount Trail have COVID-specific guidelines too which you need to be aware of and follow. Check these out in advance before you head out, and keep your eyes open to any signage posting COVID guidelines at facilities and on the trails.
There might be times you just have to stay home. If you have a cough, shortness of breath, muscle aches, a sore throat, or other COVID symptoms, it could just be a winter cold, or it could be COVID. Better to stay home and have it turn out to be a cold than to put others at risk!
You should also stay home if you have recently visited a particularly high-risk location. If you are coming to enjoy New England's glorious ski trails from out-of-state, familiarize yourself with the current guidelines for traveling to New Hampshire or Vermont. As of November 10, travelers coming to Vermont from any out-of-state location need to quarantine upon arrival.
Be Kind
Take into consideration how your actions might impact other skiers, and show your best self by Skiing Kind. Be nice to other skiers, and be nice to the trails too!
If you find yourself off your skis and walking, stay to the side of the trail, whether a groomed trail or not, so that you don't make potentially dangerous holes in a groomed trail or in a track. If you are skate-skiing, avoid skiing over any set tracks. If you fall (it happens even to the best!) fill your "sitz-mark" so that it doesn't trip up other skiers.
In the backcountry, though the trail may not be groomed, there is often someone who maintained the trail or glade for your enjoyment. Show respect for the trail and for those skiers coming after you by following the principles of Leave No Trace. Leave what you find, take your trash with you, and if your dog leaves anything behind, cover the yellow and pick up the poop!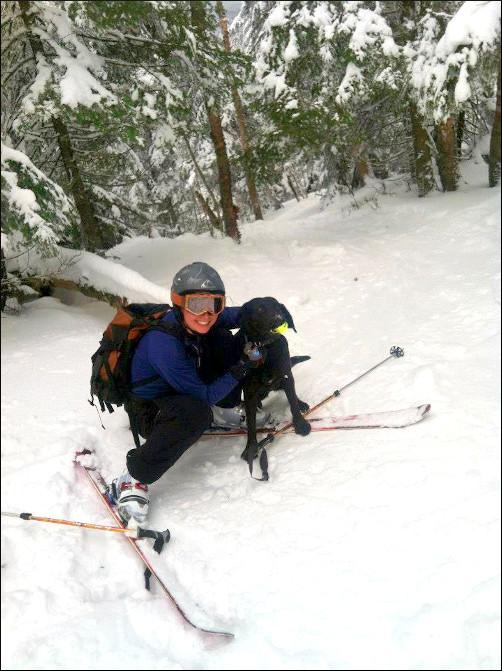 Do you like to listen to music while you ski? Use ear buds instead of playing music through a speaker. Similarly, put your phone in silent mode, and if you must take a call, avoid shouting into the phone, keep your voice low.
Be courteous. If someone steps aside to let you pass, remember to thank them!
By practicing ski etiquette and using common sense, you are showing respect for the land, as well as respect for your fellow skiers, and doing your part to ensure that all are able to enjoy our snowy New England landscapes.