This past weekend finally brought a taste of that nearly-summer weather, and my housemates and I decided to take advantage by planning a day outdoors!
To be honest, when planning this day, I didn't start off with picking the hike. My friend had never been to Red Wagon Bakery in Canaan, New Hampshire, and I was resolved that we would go together before our term at college ended. But of course, a trip to the bakery is always better after you've just come back from a hike! I looked up Red Wagon Bakery on Trailside Services and scoped out the nearby trails - there were many of them! The Eastman's Northern Trails' Cole Pond Trail caught my eye because the description mentioned ledges, caves, and a pond with a picnic spot. What more could we want from a 3.4 mile round-trip hike? The answer, of course, is giant rhododendrons, which I happened to spot listed as a feature on the map of the trails network. That decided it; my two housemates and I packed our bags and headed for Cole Pond.
Our hike started on a short access road, and the beginning of the trail itself was marked with a map and fun mailbox trail sign! From there, we hiked about a mile over rolling hills and among both beech forests and stands of pines. I was particularly excited to spot lots of painted trillium, a white flower with a pink center that typically grows with only one stalk and flower. In addition to trillium, we also saw blooming hobblebush, wintergreen, and the first leaves of some pink lady slipper orchids.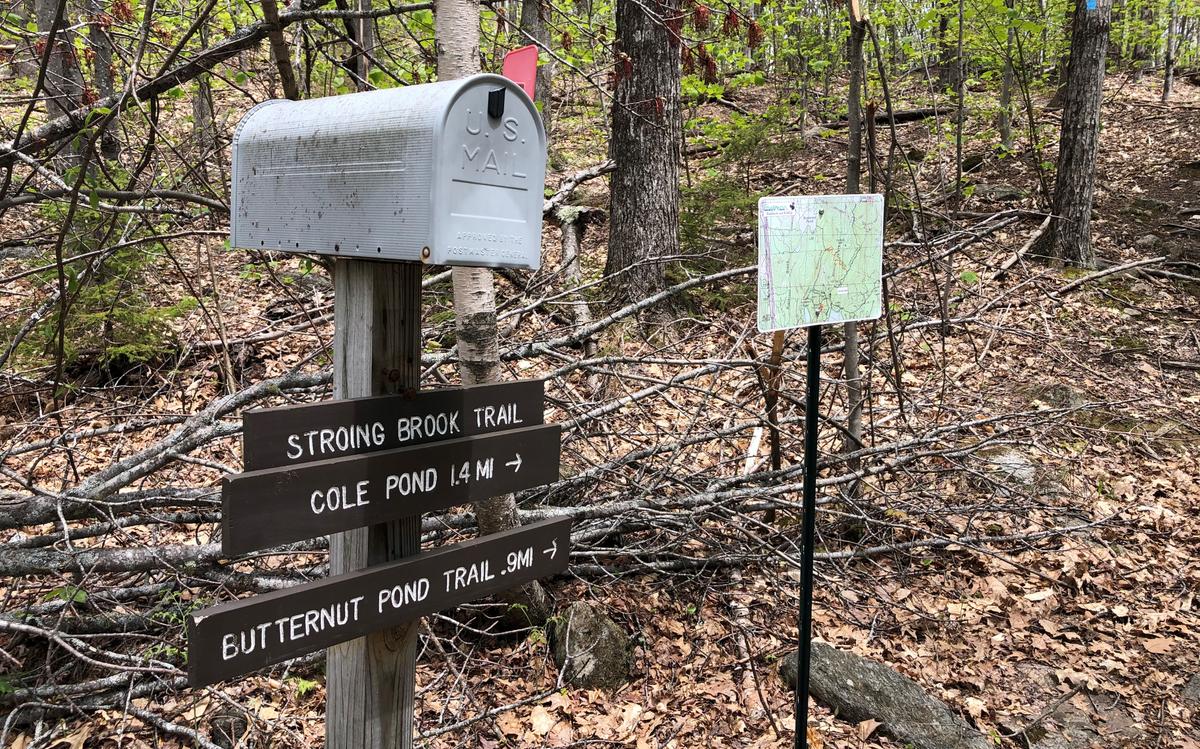 Visitors are welcomed to Eastman's Northern Trails with a great trail map and sign post
We knew we were nearing water when we came across a babbling brook snaking down the hill below us, but the pond itself remained hidden until we crested a small hill and spotted the glimmering water. Cole Pond feels as though it is tucked far away in the mountains; I couldn't believe we were only a mile and a half from the road.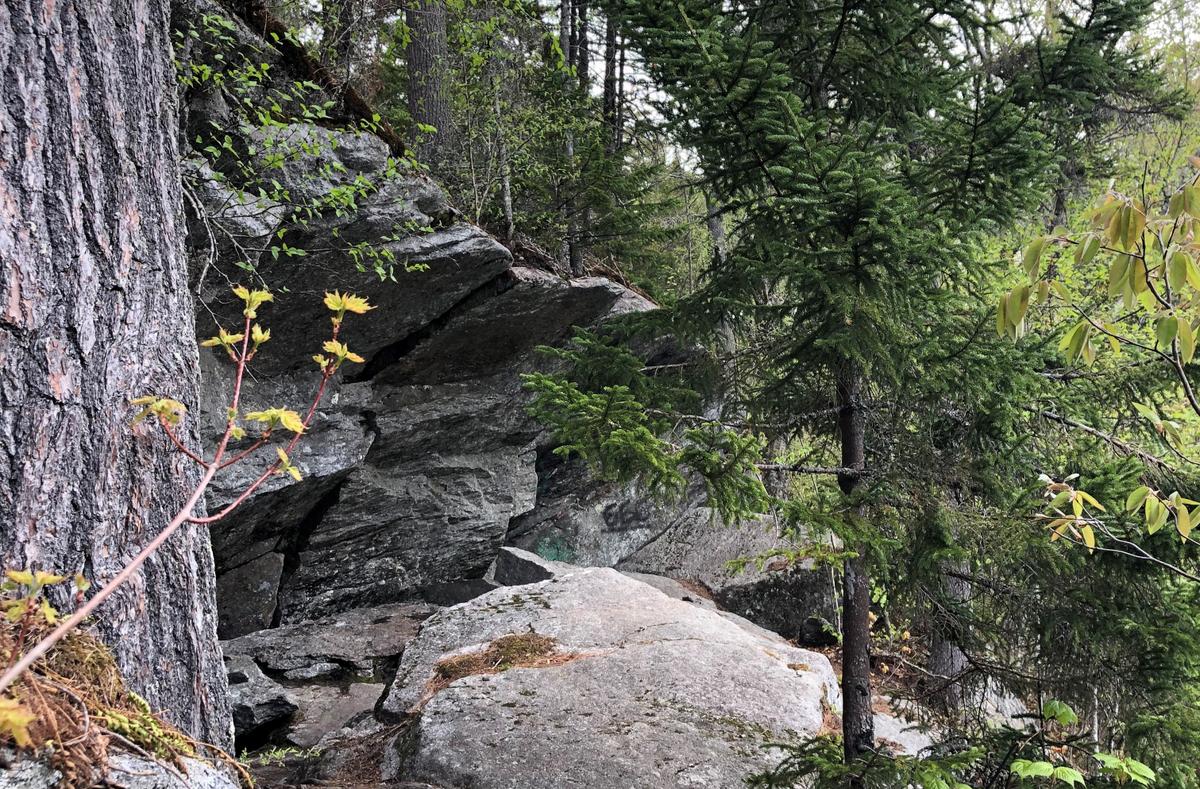 Impressive boulders arch over the trail that runs along Cole Pond
To get to the best picnic spot, you skirt along the water's edge for about a tenth of a mile. The aforementioned caves were here - impressive boulders that arch over the trail like an ocean wave that has been frozen in stone. And those boulders were not the only rocks! The entire hillside leading down to the pond was made up of mostly exposed rock, adding to the feeling that we were buried somewhere deep in the mountains of the northern forests.
The picnic spot at Cole Pond is an expanse of flat rock right by the water's edge. A stone chimney stands alone just behind the rocks, looking curiously out of place. My friends and I were feeling brave, so we even took a quick dip in the pond itself! The water was quite cold, but it sure woke us up. Some of the biggest tadpoles I've ever seen were also hanging out in the water and would swim up close to us while we were on shore, taking their turn to bask in the sunlight.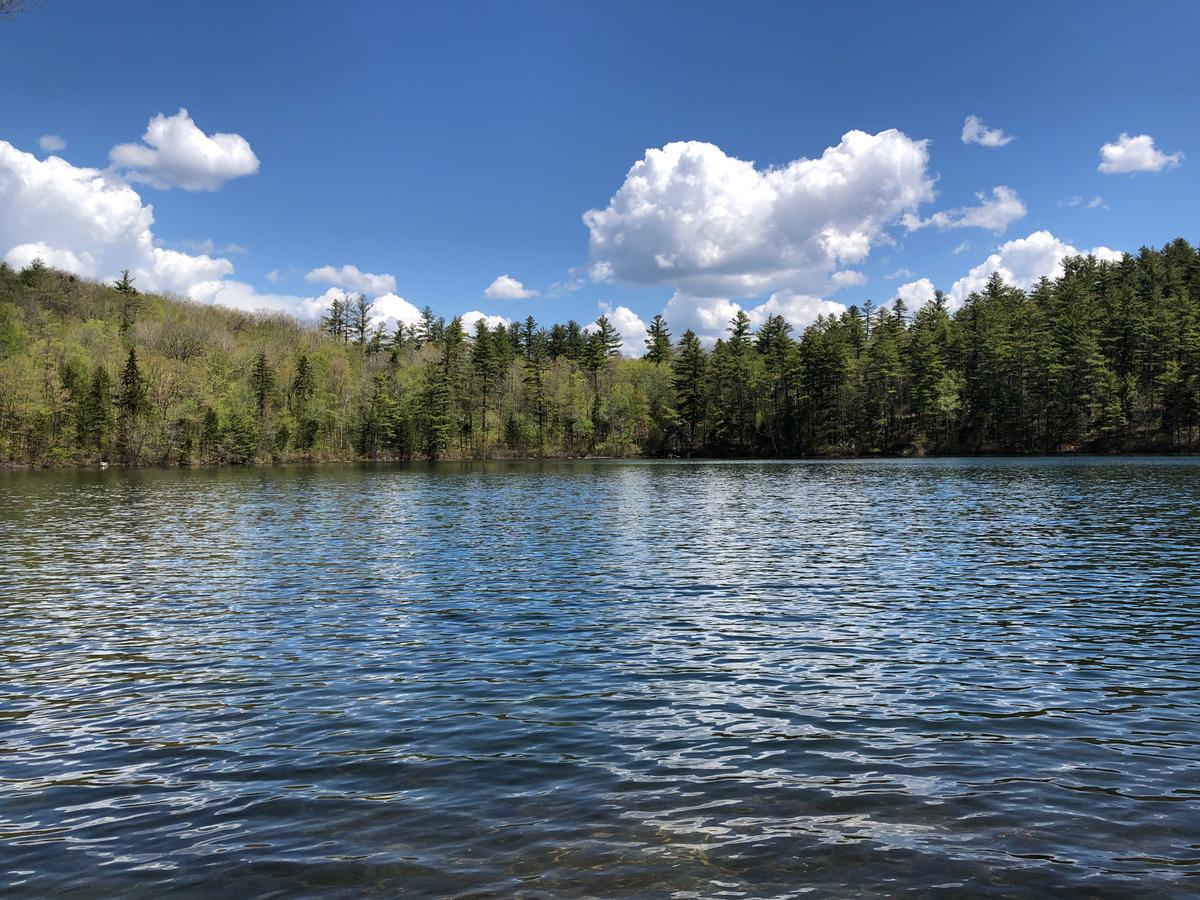 While only 1.7 miles from the road, Cole Pond feels as though it is tucked far away in the mountains.
After we hiked out from Cole Pond, we drove a couple minutes down the road to the spot on the map labelled "Giant Rhododendron Park". The park features two short loops, one of which encircles a grove of giant rhododendrons! The rhododendrons in this park don't bloom until mid-July, but even their leaves were twice the size of the rhododendron leaves outside my house. We took a short walk in the park, admiring the rhododendron plants and learning some more about wildflowers from the small signs along the pathway.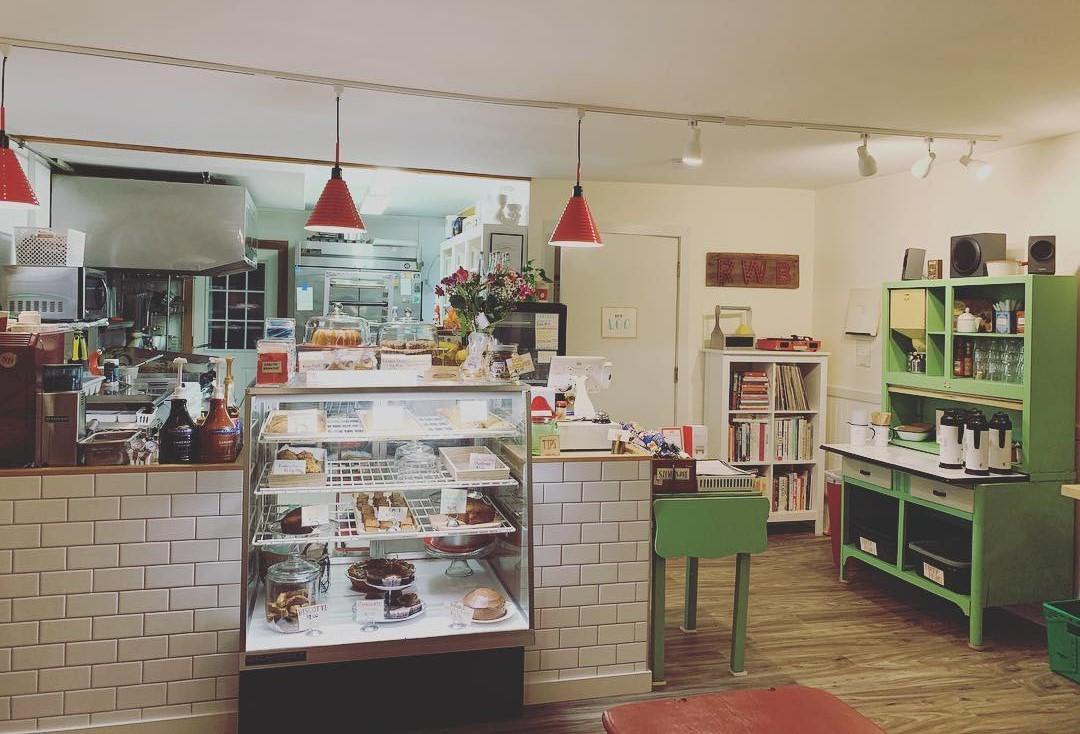 The case full of delicious baked goods at Red Wagon Bakery! Photo credit: Red Wagon Bakery Facebook
Our next stop was the much anticipated Red Wagon Bakery. Unfortunately, it started to rain on our drive from the rhododendron park, so we decided to get a takeout lunch and eat at home. The cases at Red Wagon Bakery are full of an amazing assortment of flavorful and creative treats! While we got some of their breakfast burritos (breakfast is served all day!), we couldn't resist picking up a couple oakman cookies (milk and semisweet chocolate, walnuts, heathbar, and sea salt) and some day-old baked goods.
My favorite hikes are the ones that look promising but end up being wonderful in ways you could never have guessed. The beautiful wildflowers and sheer beauty of the pond itself made Cole Pond exactly that type of hike, and our trip to Red Wagon Bakery was the perfect way to cap off the day.
As we were driving home, the sun came out again and the air got even warmer. We were tempted to turn around and do the whole thing again! But I'm sure that we'll be back soon.