Description
The Slate Valley contains a mixture of gravel roads, paved roads, rough 4th class roads and the D&H Rail Trail to offer some very good cycling in Vermont and eastern New York. It has quiet roads, charming villages, friendly people, valley roads and trails, mountain roads with good climbs, little traffic and scenic views. This system encompasses 16 routes that center on the village of Poultney, Vermont in the middle of the Slate Valley. Some of these routes can be done on a road bike, but most are designed for hybrid, cyclocross, or mountain bikes. Information on the established gravel riding loops within this network along with cue sheets are available at Slate Valley Trails.
Other Information
Slate Valley Trails (SVT) is a volunteer community group founded in 2015. SVT is a registered non-profit organization and a chapter of the Vermont Mountain Biking Association (VMBA).
The SVT mission is to build, maintain and promote foot and bicycling trails in the Slate Valley region of southwestern Vermont.

Our goals are to:
1) Build community among local individuals, organizations and businesses.
2) Support the local economy by promoting the region as a place to visit, with improved access to trails.
3) Encourage the positive health benefits of being active outdoors.
​Volunteers and new members are welcome! Become a member or sign up for our emails
Trail Manager
For more information, visit the Slate Valley Trails website or contact: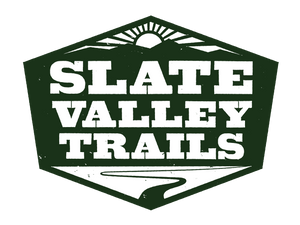 Slate Valley Trails
P.O Box 242
Poultney, VT 05764
info@slatevalleytrails.org
View website