Description
A short trail network on the north side of the park winds through woods and meadows.
The Woods Trail begins at the footbridge at the north end of the day-use parking area. From there the trail winds its way through a meadow with islands of trees, apple trees and opportunities for birding. The trail is on flat terrain and winds its way back toward the park entrance road. The Meadow Trail intersects the Woods Trail near its eastern end. This trail climbs a short distance and follows a ridge through the forest before descending back to the meadow, where it follows a mowed path. The bridge has steps on one side.
Biking is allowed on parts of the Woods and Meadow trails as well as on a short, one-way (downhill) only trail. Bikers should yield to pedestrians on the multi-use trails. Please follow signs to ensure that you are staying on biking and multi-use trails.
Other Information
Pets are not permitted in the day-use area, but are allowed in other parts of the park.
The area is known for its past slate quarrying operations, with remains of slate mills, quarries, and rubble piles still visible. The park itself was once a children's summer camp and farmland. Remnants of these past activities can still be found within the park.
Trail Manager
For more information about the trails and the park, visit the Vermont State Parks online, or contact: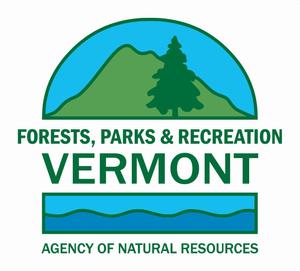 VT Dept. Forests, Parks & Recreation Region 2: Rutland Region
271 North Main Street, Suite 215
Rutland, VT 05701-2423
Phone: (802) 786-0060
View website