Description
These beautiful trails are entirely on private property and are open to the public through the landowner's generosity and their partnership with Slate Valley Trails. The majority of the trails between the Endless Brook, Country Club, and Fairgrounds trailheads are singletrack, with some doubletrack. There are multiple views of Lake Saint Catherine and other area peaks from the viewpoints.
These trails are open to any non-motorized use including hiking, running, mountain biking, nordic skiing and snowshoeing. No horseback riding or motorized use.
Please do not use the trails during the freeze/thaw cycle, as trails are fragile at this time. Please avoid trampling vegetation at the view points, and keep your impact low. Be aware of other trail users as you enjoy these trails.
The Endless Brook and Fairgrounds trailhead parking has a seasonal porta-potty, but no other facilities.
Slate Valley Trails also stewards other great trails in Poultney and Wells; use the Find Trails map to discover even more Slate Valley trails!.
Other Information
Trail Network Guidelines:
Welcome sunrise to sunset
Share the trails... bikers yield to hikers
Practice

Leave No Trace ethics

Stay on marked trails
No motorized vehicles or horses
No camping or fires
Cell phones may NOT have service at the trailhead, or on parts of the trail network! Familiarize yourself with the map, have a map with you, and/or have the map available offline in your mobile GPS App.
Respect private property
Deer hunting is allowed on this property. Please follow these recommendations during hunting season:
The following trails are closed during rifle and muzzleloader season:
Cliffhanger
Freefall
Loop-the-Loop
Midway
To Morse Hollow
For your own safety and out of respect for hunters - please abide by trail closures.
Trail Manager
Slate Valley Trails (SVT) is a volunteer community group founded in 2015. SVT is a registered non-profit organization and a chapter of the Vermont Mountain Biking Association (VMBA).
The SVT mission is to build, maintain and promote foot and bicycling trails in the Slate Valley region of southwestern Vermont.

Our goals are to:
1) Build community among local individuals, organizations and businesses.
2) Support the local economy by promoting the region as a place to visit, with improved access to trails.
3) Encourage the positive health benefits of being active outdoors.
​Volunteers and new members are welcome! Become a member or sign up for our emails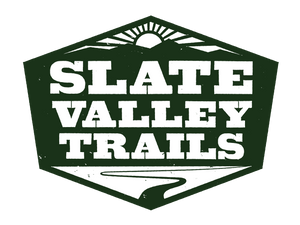 Slate Valley Trails
P.O Box 242
Poultney, VT 05764
info@slatevalleytrails.org
View website