Description
Looking for hiking trails in Burlington, Vermont? Look no further than Burlington's hidden gem, Rock Point Property - a system of PUBLIC trails on PRIVATE property. Each year, nearly 10,000 people come to Rock Point, finding a place to walk, seek solitude, learn, play, sing, pray, think, share, and be. Rock Point is a welcoming sanctuary in the heart of Burlington, and our hiking trails are accessible for visitors of all abilities. We welcome community members and ask you to respect the guidelines below, which will keep this unique natural area protected for others to enjoy.
Rock Point offers over two miles of accessible walking and hiking trails on 130 acres of privately owned and conserved land along the shores of Lake Champlain in Burlington. Our trails are available for public use thanks to a partnership with the Lake Champlain Land Trust and the City of Burlington (see guidelines). Thanks to a partnership with City of Burlington Parks, Recreation & Waterfront, our trail system links up with the City's. The trail system was renovated in 2020 and now features kiosks at trailheads, wayfinding maps at junctions, and blazes along the trails along with a universal access trail. Note that portions of the Holy Trinity Trail are closed for part of the summer to provide privacy for summer camps.
There is no charge to use Rock Point's Hiking Trails, but you must obtain a trail pass before arriving: Click here to get a trail pass.
We invite you to consider a voluntary contribution to help maintain Rock Point and its trails.
Other Information
HOURS: Dawn to dusk; no night-time hiking.

DOGS: ALL dogs must be properly leashed and with you at all times. This helps to protect the endangered species and vulnerable soil on our property, and also shows respect for other visitors who may not feel comfortable with dogs approaching them. Please clean up and dispose of waste.

LEAVE NO TRACE: Carry out what you carry in (no glass).

PRIVATE PROPERTY: Rock Point's trails are located on land that is privately owned by the Episcopal Diocese of Vermont; please respect that some buildings and areas of the property are marked PRIVATE and are not open to the public.

STAY ON TRAILS: To protect endangered wildlife and keep trails maintained, stick to marked paths; no camping, boat launching, or hammocks.

RESPECT SIGNS & STAFF INSTRUCTIONS: Staff and volunteers may remind you of the property rules or ask you to respect specific instructions. Please show respect for these requests.

NO SWIMMING: Rock Point beaches and waterfront are not open for public swimming.

NO BICYCLES: Rock point is home to many rare plants and thin soil that erodes easily (the Burlington Bike Path can be accessed from our property but bikes must be left at kiosk)

NO PICKING, FORAGING, FEEDING, HUNTING: Please leave plants and wildlife alone.

NO DRUGS OR ALCOHOL, NO SMOKING

NO NUDITY

NO CAMPIRES or CAMPING

NO FIREWORKS

ROCK CLIMBING is limited to those who have registered with CRAG (see bottom of this page)
Trail Manager
Rock Point is owned by the Episcopal Diocese of Vermont and is protected under a conservation easement through the Lake Champlain Land Trust. Learn more about the trails and area here.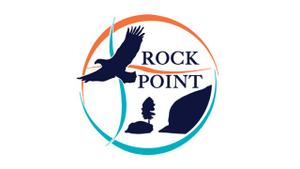 Episcopal Diocese of Vermont
5 Rock Point Road
Burlington, VT 05408
krobinson@diovermont.org
View website