Description
The forested peaks of Temple Mountain can be reached from the north or south by the Wapack Trail, which is blazed in yellow. Evidence of the former, privately owned Temple Mountain Ski Area, can still be found on the slopes of the mountain.
From the northern entrance at Temple Mountain Reservation, there is a short spur trail to the west from the parking lot, that joins the Wapack Trail. The trail to the top of the mountain is short, about 0.8 miles, and is a steady climb up the access road, though not rugged. The newly-blazed Beebe Trail joins the Wapack Trail at the top of the mountain and can be taken down the eastern slopes of Temple Mountain to make a loop back to the parking lot, for a total of 1.5 miles. The Beebe Trail is a bit more forested and has a consistently natural feeling to the trail experience.
Alternatively from the top of the former ski area, hikers can continue 1.2 miles to Holt Peak, at 2045 feet, outside of Temple Mountain Reservation. The Wapack Trail continues on to Burton Peak before reaching the intersection with the Berry Pasture Trail. From this intersection, the Wapack Trail descends 1.3 miles to NH-123.
The route offers a few points with views to the north, most notably at Currier Outlook, of neighboring South Pack Monadnock Mountain, and the surrounding area.
Other Information
The Wapack Trail is a 21.5-mile hiking trail that runs north-south over a half-dozen small mountains, none taller than 2,300 feet, from Mt. Watatic in Ashburnham, Massachusetts, to North Pack Monadnock in Greenfield, New Hampshire. It runs alongside ponds and wetlands, through dark woods and open blueberry fields, past stone walls and cellar holes, and across ledges and summits with fine views of Boston to the hills of Vermont. The Wapack Trail passes through both public lands and private lands, including a cross-country ski area, and has six trailheads with parking. For those with a love of long-distance hiking, it connects with the Midstate Trail in Massachusetts at the southern end.
Please note, camping is not permitted along the Wapack Trail.
Trail Manager
Visit the New Hampshire Division of Forests & Lands or the Friends of the Wapack online for more information, or contact: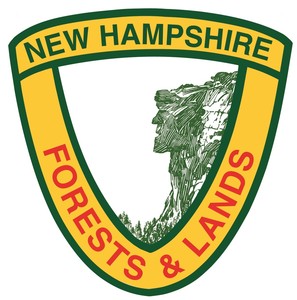 New Hampshire Division of Forests & Lands
172 Pembroke Road
Concord, NH 03301
Phone: (603) 271-2214
View website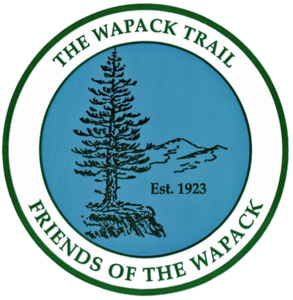 Friends of the Wapack
P.O. Box 115
West Peterborough, NH 03468
info@wapack.org
View website