Description
These relatively short trails are all easy to moderate, but the trail surface can be uneven in some places. Most of the trails are in woodland. Plant and animal life abounds in this 35-acre conserved tract.
Trail is open to foot travel only. Dogs are allowed, but must be restrained on a leash at all times and owners are required to carry out dog litter. The Nature Area also contains historical markers, interpretive signs, and several marked orienteering locations with a map locating them at the trailhead. Cross-country skiing and off-trail wandering are allowed, but please be respectful of natural features. Wheeled vehicles are prohibited.
Extension Suggestions: Other loops are possible and marked on the trailhead map. About 75 yards after leaving the meadow and taking a right, a trail breaks off to the left and heads up a small valley, gradually climbing the hillside to the top of the ridge, before looping back to the middle trail. It is designed as a ski trail with gradual ascents/descents and wide corners, but it is not groomed. Natural hazards and snow conditions exist. (Note: Many unauthorized trails have arisen in the nature area. Please do not follow these trails, as repeated use will tramp them down further.)
Other Information
The 35-acre Norwich Nature Area is owned by the town of Norwich, managed by the Milton Frye Natural Area Committee, and conserved by the Upper Valley Land Trust.
Trail Manager
Visit Town of Norwich online for more information and a printable map or contact: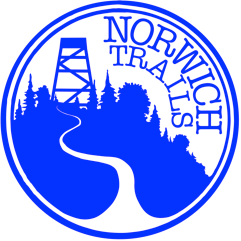 Norwich Trails Committee
1396 New Boston Road
Norwich, VT 05055
Phone: (802) 649-1048
Nick.Krembs@gmail.com