Description
There are currently about 30 miles of trails on Millstone Hill providing outstanding opportunities for mountain biking, cross-country skiing, snowshoeing, back country skiing and hiking. These trails are managed by the non-profit Millstone Trails Association and are centered on over 1,500 acres of historic and unique granite quarry lands in Barre Town. This area is one of the most scenic and unusual areas in Vermont, combining natural beauty with a fascinating history and cultural heritage. There is a wide variety of trails for all level of users - from beginner to expert. Trails pass by numerous quarries, large granite grout piles, and stunning scenic vistas.
While there are plenty of trails for all types of users, some of the mountain bike trails at Millstone Hill are truly "expert" and are among the most challenging in Vermont. There are some large cliffs and steep drop-offs near some of the quarries. Visitors should use caution and common sense.
Other Information
Passes required for mountain biking:
Mountain bikers must purchase a day pass, available online here or at several retail locations in the area, including Lawson's General Store, Morgan's East Barre Market, Graniteville General Store, Vermont Bicycle Shop and Onion River Sports. For more information about retail pass purchase locations, including maps to retail locations and contact info, click here.
Alternatively, bikers may purchase a Membership. MTA members may ride without purchasing day passes.
Pedestrian activities at Millstone are always free.
Membership:
Please consider joining MTA as a member. Membership entitles you to all of the benefits of MTA's affiliation as a VMBA Chapter (click here for a detailed list of benefits), and your membership fees go directly to supporting the volunteer workforce that keeps the Millstone trails accessible and maintained.
Maps:
Free trail maps are available online and at retail day pass purchase locations. An interactive, GPS-enabled trail map is also available in the free, locally developed mobile app TrailHUB. Follow MTA on TrailHUB to receive instant notification of trail condition updates, closures, and more.
Trail Manager
Visit Millstone Trails online for more information or contact: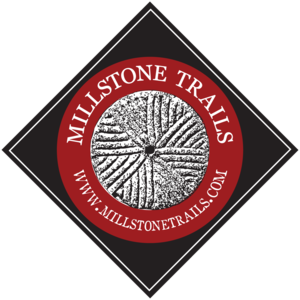 Millstone Trails Association
Millstone Trails Association
P.O. Box 279
Graniteville, VT 05654
info@millstonetrails.com
View website