Description
The Hosford Heart of the Valley Trail, named after community volunteer Charlie Hosford, is an easy 1.3 mile path that connects the northern end of the Historic Waitsfield Village with the Valley's commercial center to the south. It is a quiet walk in some areas and bustles with energy in others. It uses sidewalks, graveled paths, boardwalks and packed dirt surface at various points along the trail. The trail travels over an old levee and next to the Mad River as it winds its way to the Bridge Street shopping area. Along the way, users can enjoy access to swimming and fishing, picnic tables as well as views of the river and the picturesque Great Eddy Covered Bridge (c.1833).
Other Information

This trail is part of the Mad River Valley Trails Collaborative.
The Collaborative is a watershed-wide network of lands and trails created through a partnership of local organizations, generous property owners, towns, the State of Vermont, the US Forest Service, and many volunteers. These trails reflect the Mad River Valley's love of the outdoors and commitment to stewardship of land and recreational opportunities for current and future generations. Enjoy and help us care for this place. Click here to learn more and support recreation in the Mad River Valley.
Trail Manager
Visit the Mad River Path Association online for more information or contact: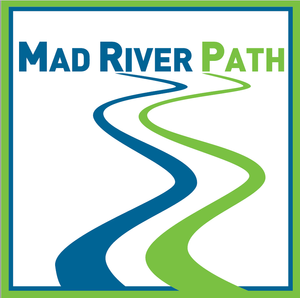 Mad River Path Association
PO Box 683
Waitsfield, VT 05673
Phone: (802) 496-7284
info@madriverpath.org
View website