Description
Cadot Trail: The Cadot Trail (formerly the Beeline—now named after Meade and Cindy Cadot) is the oldest of the trails shown. Starting at a gate off the dirt section of Old Dublin Road, it travels for an easy mile over a rocky old woods road, then turns sharply right to eventually become a steeper 0.5 mile hike to the peak of the Skatutakee Mountain — 840 feet higher than the trailhead. This trail is marked with white discs.
Harriskat Trail: The Harriskat Trail begins across the road from the Harris Center and ends at the peak of Skatutakee Mountain. Like the Cadot Trail, it's about 1.5 miles long, but the 660-foot ascent is more gradual. This trail is marked with white rectangles.
Thumbs Up Trail: The Thumbs Up Trail connects the top of Skatutakee with the top of Thumb Mountain. Thumb is as high as Skatutakee, but with different views. The trail is about 1.25 miles long — the last 0.25 miles is the trail to Thumb's summit. This trail is marked with white triangles.
Thumbs Down Trail: The Thumbs Down Trail is a route between the lower section of the Harriskat Trail and the upper section of the Thumbs Up Trail. It bypasses the peak of Skatutakee Mountain, passing Jack's Pond instead. The Thumbs Down trail departs from the Harriskat Trail and features an easy 0.5 mile walk to Jack's Pond. From the pond to the intersection with the Thumbs Up Trail is a hike of about 0.6 mile, which starts easily and ends with a fairly steep climb. This trail is marked with yellow rectangles.
Other Information
Dogs are welcome on Harris Center trails, but they must be on-leash at all times.
Trail Manager
For more information, visit the Harris Center for Conservation Education online or contact: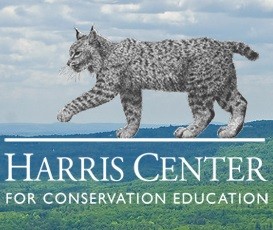 Harris Center for Conservation Education
83 King's Highway
Hancock, NH 03449
Phone: (603) 525-3394
View website