Description
Dandelyon Trail: The Dandelyon Trail (named after Cecil Lyon) is about 0.5 miles long and marked with yellow rectangles. It ends at an array of huge glacial boulders.
Boulder Train Loop Trail: The Boulder Train Loop Trail begins and ends along the Dandelyon Trail, and is about 0.5 miles long. This trail also intersects with the Channing Trail. The loop is marked with blue rectangles, and winds through large granite boulders deposited by the last glacier.
Channing Trail: The Channing Trail (named after Lawrence M. Channing) is about 1.6 miles long, and marked with orange rectangles. The trail is accessed from the Boulder Train Loop and ends on King's Highway just above Hunts Pond Road. Hikers can return to the Harris Center via the road.
Orr's Edge Trail: The Orr's Edge Trail (named for trail master Jim Orr) is a short, easy, fairly level trail that follows the edge of the meadow and woodlands around the Harris Center. About 0.4 miles in length, this trail is marked with yellow "bobcat" markers.
Other Information
Dogs are welcome on the trail but they must be leashed at all times.
Trail Manager
For more information, visit the Harris Center for Conservation Education online or contact: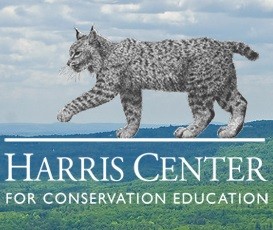 Harris Center for Conservation Education
83 King's Highway
Hancock, NH 03449
Phone: (603) 525-3394
View website