Description
The Lower Section of the West River Trail is a 3.7 mile pathway on the bed of the former West River Railroad. The trail begins in Brattleboro near the Marina restaurant (follow Spring Tree Rd north from the Marina Parking lot .2 mile to trailhead) and follows the West River to the trailhead on Rice Farm Road. The trail is flat, well drained, and some sections have been surfaced with stone dust. It is popular with runners, bikers (mountain or hybrid bike recommended), families, and those seeking a leisurely stroll.
A printable map of this section can be found on the Friends of West River Trail website.
Other Information
Approximately one mile from the Marina Trailhead is the Riverstone Preserve. Its 25 acres of forest and 2200 feet of West River shoreline was purchased by Friends of the West River Trail in 2013, with the assistance of the Vt Land Trust and the VT Housing and Conservation Board. The Preserve protects the floodplain forest and the rare, ice-scoured riverine cobblestone ecosystem found here, and provides for recreational use. Ecological management, invasive plant control, and recreational enhancements, including a picnic area and interpretive trail, are underway.
Roads around West Dummerston can be used in combination with the West River Trail for extended bicycle riding. From the Marina Trailhead, you can pedal out the West River Trail and then follow unpaved Rice Farm Road and Quarry Road to the West Dummerston Covered Bridge. There is a Park and Ride lot on the west side of the bridge, just off VT-30. The distance is 6.0 miles one way, and the route is level.
The Friends of the West River Trail also maintain 16 miles of the Upper Section of the West River Trail in Townshend, Jamaica, and Londonderry. A printable map of the Upper Section can also be found on their website.
Trail Manager
Visit the Friends of the West River Trail online for more information and a downloadable map of the West River trail sections, or contact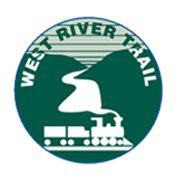 Friends of the West River Trail: Lower Section
138 Elliot St, Suite 3
Brattleboro, VT 05301
lowersection@westrivertrail.org
View website