Description
The 25-mile Presidential Recreational Rail Trail runs from the Pondicherry Wildlife Refuge east to Gorham, NH. The trail skirts the Presidential Range along the edge of the White Mountain National Forest as it follows portions of the Israel and Moose Rivers. Its surface is predominately gravel.
Near Cherry Pond the trail enters marshland with bridges carrying users over the wetter trail sections. Wildlife watching is good here—look for moose and many species of birds!—and the pond has an observation deck that makes for a nice picnic spot. From the pond the trail carries on to the White Mountain Regional Airport.
Users can see remnants from the old railroad days, including a plant where water was bottled for transport to the cities. The rail trail is built along a line once used by the Boston & Maine Railroad to haul lumber and paper between Whitefield and Berlin, the latter of which, perfectly situated on the Androscoggin River in a heavily forested region, became a thriving mill town.
Users that are particularly interested in the history of the area's railroad can visit the refurbished railway station in Gorham that houses the Gorham Railroad Museum.
NOTE: From Cherry Pond to Gorham, the trail is open for Off-Highway Recreational Vehicle use only during winter months (with continuous snow cover). The trail east of the parking area on US-2 in Gorham is open to OHRV use all year.
Other Information
Trail conditions change often due to weather or maintenance schedules. Before you head out, click here for up-to-date conditions and closure information.
Trail Manager
For more information about the trail, visit New Hampshire's Recreational Rail Trails online, or contact: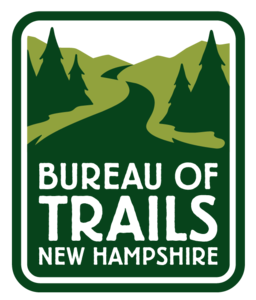 NH Bureau of Trails
172 Pembroke Road
Concord, NH 03301
Phone: (603) 271-3254
nhtrails@dncr.nh.gov
View website