Description
Just below the parking area at the bottom of the hill there is a picnic table, a great place for families to have a picnic and let the children run around. The meadow trails fork here, one going up the hill and passing a bench that is a good resting spot and affords a nice view of the Green Mountains. The trail continues into a back field and loops back onto itself. As the trail starts to curve back around you have the opportunity to slip into the woods and follow a nice path down to the lower field trail. If you go a little further there is another path into the woods that branches off almost immediately. The right path is a short loop; the left path meanders through the forest and returns to the meadow.
Other Information
The Charlotte Trails Committee asks that all users stay on the trails and off of private property bordering the trails, keep dogs from straying into neighboring yards, clean up after pets, and respect the privacy of the landowners who have generously allowed trail easements on their land.
Please also respect the homeowners on Plouffe Lane by obeying the speed limit and all posted signs.
Trail Manager
Visit Town of Charlotte online for more information or contact: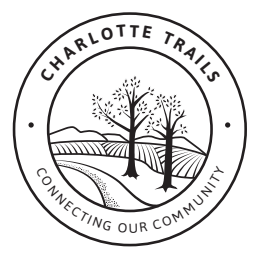 Charlotte Trails Committee
P.O. Box 119
Charlotte, VT 05445
View website