Description
UPDATE FALL 2020 - Reservations are now required for day use at Rollins and Winslow State Parks, including hiking the trails up Mt. Kearsarge. Visit NH State Parks to make a reservation.
Mt. Kearsarge, at just under 3,000' elevation, is a fun hike with the reward of spectacular views across the region. A lookout tower on the rocky summit allows for even farther flung vistas. Multiple trails climb the mountain from either Rollins or Winslow State Park.
Winslow State Park Trails:
Barlow Trail - Several vistas along this 1.5 mile trail award hikers with views of Cardigan and Ragged Mountains. It is the less steep option from the Winslow side of the mountain.
Winslow Trail - The one mile Winslow trail climbs steeply and features many steep rock staircases and granite ledge. Many hikers choose to climb this steeper trail and return on the more gradual Barlow Trail.
Rollins State Park Trails:
Rollins Trail - Leaving from the picnic area, this half mile trail follows the old carriage road to the summit.
Lincoln Trail - From the picnic area, the Lincoln Trail climbs steeply for 200 yards before cresting a ridge and following a more gradual slope to the summit. The trail also heads southwest from the picnic area and traverses the slope of Black Mountain down to the Kearsage Valley Road. This trail is part of the Sunapee-Ragged-Kearsage Greenway, a 75-mile loop hiking trail that connects the peaks of Sunapee, Ragged and Kearsage Mountains.
Other Information
Rollins and Winslow State Parks are open for recreation year-round. However, the gate is closed during the off-season, which significantly lengthens the hike or snowshoe distances. Recreationists should possess the necessary knowledge, skill, and equipment to ensure their own safety. Users assume all risk while recreating in State Park lands.
Trail Manager
For more information, contact: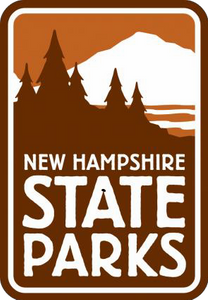 New Hampshire State Parks
New Hampshire State Parks
172 Pembroke Road
Concord, NH 03301
Phone: (603) 271-3556
nhparks@dncr.nh.gov
View website