Description
Overview:
In the mid-nineteenth century, this 604-acre property consisted of 13 separate lots. Miles of stonewalls and rusted wire fencing attest to an agricultural economy that has almost ceased to exist in central New Hampshire. In 1999, in an extraordinarily generous donation, the land was given to the Lakes Region Conservation Trust. From the trailhead kiosk, Lambert Road continues straight ahead for a mile, where it meets an abandoned road that used to connect Coxboro Road in Holderness and Leavitt Hill Road in Ashland. Scattered throughout the forest are cellar holes and foundations which identify the locations of four of five farms known to have existed in the 1800s. These structures bear witness to a tradition of homestead agriculture in rural New Hampshire and to the transition from fields back to forestland after these farms were abandoned. In the center of the Homestead Forest is a network of trails which pass old foundations, swamps, viewpoints, and caves. The total circuit of trails is over 3 miles in length and involves a climb of 600 feet.
Trails:
The main 3 mile loop starts at the kiosk on Lambert Road and follows an abandoned section of Lambert Rd. At 0.5 mile past the kiosk the Gibban Trail departs left. (Lambert Road continues on for 0.5 mile before leaving the property).
The 0.6 mile Gibban Trail leads up to a family homestead at an elevation of 1200' where old cellar holes can be seen. This trail has some moderately steep sections.
The Devil's Den trail completes the loop, passing along a steep ledge and through a ragged boulder field with challenging footing and a stream crossing. It also affords some limited views to the south, especially in fall and winter when leaves are off the trees. The trail terminates back on Lambert Road - turn left to return to the kiosk.
Just past the kiosk, the 0.7 mile round-trip Winona Ledge Trail departs to the right and provides a nice view of Winona Lake and the Belknap mountains. This trail has a 425 foot elevation gain with several steep sections and a stream crossing.
Other Information
For more information on this property and others managed by the Lakes Region Conservation Trust, or to become a member, please refer to their website at lrct.org.
Trail Manager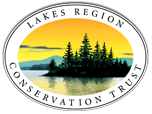 Lakes Region Conservation Trust
PO Box 766
Center Harbor, NH 03226
Phone: 603-253-3301
lrct@lrct.org
View website