Description
The hiking and biking trails at Greenfield State Park features bogs, forests and the shoreline of Otter Lake.
The Hogback Pond Trail is a relatively flat 1.2 mile shoreline loop around Hogback Pond. Download the self-guided hike flier for information about the natural world that surrounds the trail.
The North Loop is a 1.1 mile singletrack mountain bike trail that leaves and rejoins the Hogback Pond Trail. The North Loop is maintained by the Greenfield Trails Association and is marked by blue diamonds.
Other Information
Fees: Adults: $4, Children (6-11): $2
Reservations: Visitors can make a reservation before arriving at the park as parking is limited (especially on nice weekends and holidays). Walk-in spaces are available for visitors on a first come/first-serve basis. Reservations can be made up to 30 days prior to arrival.
Camping: Greenfield has 256 campsites that are available by reservation only.
Hours: Weekends only: 9am-6pm
Pets: Please note that pets are permitted on-leash in the campground and on the trails, but are prohibited in the day-use and beach area.
Trail Manager
For more information, visit the New Hampshire State Parks website, or contact: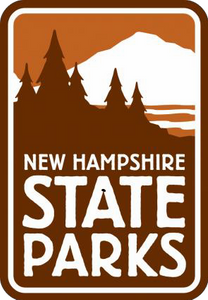 New Hampshire State Parks
New Hampshire State Parks
172 Pembroke Road
Concord, NH 03301
Phone: (603) 271-3556
nhparks@dncr.nh.gov
View website