Hide Map
Trailhead
From Burlington (25 minutes): Take I-89 north to Exit 17. Go west on Route 2 for 2.4 miles. Turn right onto Bear Trap Road. After 1.8 miles, the road forks. Bear left toward barn. At the stop sign turn left onto Cadreact Road. Follow north approximately 2.5 miles. The road becomes Beebee Road. Turn left (west) onto Henry Rd. Continue to the end.
Directions from Milton Village: Go north on US Rt. 7, and turn left (west) onto Lake Rd. Turn left (south) onto Everest Road. Turn right (west) at the next intersection to remain on Everest. Turn right (north) onto Beebe Hill Rd. Turn left (west) onto Henry Rd.
Click here for a Eagle Mountain Natural Area trail map and brochure.
Description
The Eagle Mountain natural area contains 250 acres of forested natural area protecting one of the most important natural areas in the State of Vermont. To help protect the sensitive habitat please stay on the trails and practice low-impact walking, hiking, and snowshoeing.
The Hoyt Lookout and Eagle Hill Trails shown here are just a few of the seven trails on the property. Most of the trails are 10 to 25 minute loops.
Other Information
Eagle Mountain Natural Area is one of more than 45 properties preserved by the Lake Champlain Land Trust. Since 1978, the Lake Champlain Land Trust has preserved the lakeshore and natural areas of Lake Champlain, including thousands of acres and miles of shoreline.
No facilities.
Trail Manager
Visit Lake Champlain Land Trust online for more information and a printable map showing additional hikes or contact:

Lake Champlain Land Trust
1 Main Street
Burlington, VT 05401
Phone: (802) 862-4150
info@LCLT.org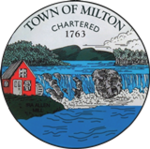 Milton Recreation Department
Recreation Coordinator
43 Bombardier Road
Milton, VT 05468
Phone: (802) 893-4922
kduchesneau@town.milton.vt.us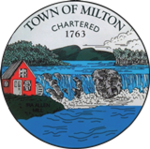 Milton Conservation Commission
Planning & Economic Development Office
43 Bombardier Road
Milton, VT 05468
Phone: (802) 893-1186
JCastle@town.milton.vt.us
Nearby Geocaches
Check for nearby geocaches to Eagle Mountain.
Leave No Trace Principle
Respect Wildlife
Keep your pets under control at all times, to protect both them and wild animals, fragile environments, and the enjoyment of other visitors.