Description
Situated on a hilltop with a panoramic view of historic Mount Monadnock, the Cathedral of the Pines is a breathtaking open-air cathedral and meeting space on 236 acres of New Hampshire forest. The campus is home to a number of historic monuments that honor military veterans. The campus is also home to a number of trails that vary in both experience and difficulty. The paths that depart from behind the cathedral are wide, level, and ADA accessible. These trails tour the facilities and monuments and offer stunning views of Mount Monadnock. The western trail system offers visitors well-established wooded trails that wind by picnic areas and offer views of Grassy Pond.
The eastern trail system departs from the trailhead kiosk and crosses Hale Hill Road and Cathedral Road. The trail is marked with blue diamonds and because the trail is relatively new it is not well worn in; however, it is easy to follow because there are a number of markers. The eastern trail system winds through the wood, fields of ferns, and along Emerson Pond. Cut outs from the main loop offer users the chance for a medium to long walk through the woods.
Other Information
The Cathedral of the Pines is a nationally recognized memorial dedicated to the memory and honor of all Americans who serve the nation. In search of peace, we are open to the public as a place of spiritual, cultural, and environmental appreciation.
The Cathedral of the Pines is open daily May 1st through October 31st, from 10 am – 5 pm. The public is welcome to come and enjoy our exquisite view of Mount Monadnock, trails, gardens, and historic monuments.
Pets must be leashed at all times. There are pet waste disposal bags available along the paths throughout the Cathedral of the Pines grounds.
Trail Manager
For more information about the trails and the facilities and events, visit Cathedral of the Pines online, or contact: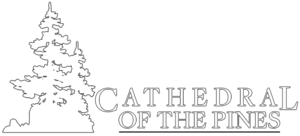 Cathedral of the Pines
10 Hale Hill Road
Rindge, NH 03461
Phone: (603) 899-3300
info@cathedralofthepines.org
View website