Hide Map
Trailhead
The trailheads are located in Branbury State Park. From the center of Brandon, take VT-73 (Park Street). Turn left with VT-73 (Marble Street) then stay left with VT-73 at the Y where it becomes Forest Dale Road. Turn left onto VT-53 (North Road). Continue on VT-53, for 5.8 miles then the turn left at the park entrance.
The US Forest Service trailhead for the Moosalamoo National Recreation Area trails including the Falls of Lana, Rattlesnake Cliffs, and Silver Lake trails is just before the state park entrance on the right side of VT-53 (if approaching from Brandon).
Description
Please note: Pets are allowed on-leash in the day use area (but not on the sandy part of beach or swimming area), campground, and on trails. Dog owners are required to pick up after their dogs.
All trails on state park land are blazed with blue markers on trees. Two blazes indicate a sharp turn.
Nature Trail Loop: This 0.5 mile walk explores the forest ecosystem around the park. Trail access is from Site 41. A map of the campground may be obtained at the state park contact station.
Lower Cliff Trail: This 0.7-mile trail starts at Site 22 and goes to the top of the Nature Trail Loop. It traverses the base of the cliffs east of Lake Dunmore. This is a steep hike on uneven ground and rocks. This trail does NOT connect to the Falls of Lana on US Forest Service property. It does connect with the Upper Cliff Trail.
Upper Cliff Trail: This 0.25-mile trail starts from midway along the Lower Cliff Trail. This trail is steep, narrow, and travels along the top of these cliffs providing a lovely view of the lake. Sensitive plant communities exist on the rocks -- please do not step on any vegetation.
Other Information
Branbury is located on the eastern shore of Lake Dunmore at the base of Mt. Moosalamoo. The Green Mountain National Forest is its neighbor to the east. Historically, the 69-acre park operated as a farm at the turn of the century, then a guest house, summer boys' camp, and private beach and picnic area. In 1945, it became Branbury (Brandon - Salisbury) State Park.
The park is divided by VT-53. Twenty tent sites and 7 lean-to sites are on one side of the highway in a heavily wooded area, and 17 tent/RV sites are located along the perimeter of a grassy open area near the beach. There are also two screened-in shelters for rent. Flush toilets, hot showers ($), and a dump station are provided. The 1000-foot natural sandy beach, clean and clear Lake Dunmore, and the large open grassy areas make the area very popular for swimming, sunning, or picnicking.
Pets are allowed on-leash in the day use area (but not on the sandy part of beach or swimming area), campground, and on trails.
A fee is charged during operating season.
Trail Manager
For more information on the park and the trails, visit Vermont State Parks online, or contact: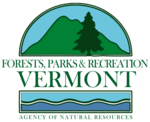 VT Dept. Forests, Parks & Recreation Region 2: Rutland Region
271 North Main Street, Suite 215
Rutland, VT 05701-2423
Phone: (802) 770-0893
maria.mayer@vermont.gov
Nearby Geocaches
Check for nearby geocaches to Branbury State Park.
Leave No Trace Principle
Minimize Campfire Impacts
Use only small pieces of dead and down wood for campfires and let them burn down to ash. Please extinguish your campfire before leaving.