Description
There are approximately 2.3 miles of trail at this sanctuary. The primary trail (Fred Steele Memorial Trail) is about 1/3 mile in length. It begins at a parking area on Route 113 and follows an old roadbed that has been converted to an accessible trail, starting with crushed stone and ending on a boardwalk. About 800 feet from the trailhead, the forest gives way to a large marsh, providing impressive views of the Sandwich Mountain Range to the northwest and the Ossipee Mountains to the southeast. A 500 foot-long boardwalk terminates at the Ridgely Observation Platform, complete with a bench and interpretive panels.
The Middle Road (southern) trailhead consists of a walk along a gravel road and woods roads through private conservation property before joining the Thompson Sanctuary, where a yellow-blazed one-mile loop trail (the 'Wildnerness Loop') traverses wet woodlands and rolling forested terrain. Care should be taken when crossing bog bridges.
Other Information
The Alice Bemis Thompson Wildlife Sanctuary is a 300-acre wildlife sanctuary owned by New Hampshire Audubon (NHA). The extensive wetlands here provide a home for beavers, waterfowl, moose, and many unique bird species. In 2014, NHA partnered with the Northeast Wilderness Trust to place a forever-wild easement on the property. Held and monitored by NWT, this easement ensures that the land will be protected and stewarded by NHA in a low-impact manner that promotes biodiversity and other wilderness values.
Visitor Information:
The sanctuary is open throughout the year during daylight hours.
Only foot travel is permitted on the sanctuary.
Smoking, swimming, camping, fires, hunting, firearms, and trapping are prohibited.
Please stay on the marked trails and do not collect or in any way disturb any plants or animals.
Pets are not permitted on the sanctuary.
Please carry out all trash and litter.
Some terrain can be rough and wet, so sturdy footwear should be worn.
A portion of this trail runs through private property. Please observe all above guidelines as well as any additional signage in this area.
Trail Manager
New Hampshire Audubon is an independent statewide membership organization whose mission is to protect New Hampshire's natural environment for wildlife and for people. It operates nature centers throughout the state that provide educational programs for children and adults; oversees research projects, from developing a plan to preserve the bio diversity of a rapidly growing state to monitoring many of the New Hampshire's endangered species; protects thousands of acres of wildlife habitat through its sanctuaries program; advocates for sound public policy on environmental issues.
For more information visit: www.nhaudubon.org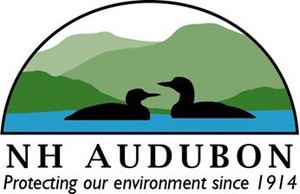 NH Audubon
Director of Land Management
84 Silk Farm Rd.
Concord, NH 03301
Phone: (603) 224-9909
nha@nhaudubon.org
View website