Updated 11/10/2020
The spread of the novel coronavirus, COVID-19 has impacted all of our lives. As we seek solace in the outdoors, it is important that we also protect the health of all of our neighbors.
Many trail and outdoor organizations have issued guidelines for using outdoor spaces including:
Make the health of everyone in your community your priority. Go out only if you're feeling healthy and you have not had close contact with anyone who is sick.
Some trails and parks have been closed due to overcrowding. Before you go, make sure you are following the regulations from local health officials and the trail manager for the trail you are visiting.
Stay at least 6 feet away from others when and wear a mask in a public setting, including the outdoors.
Take it easy; backcountry rescues require many emergency responders to gather closely together. Avoid putting them at risk by choosing low-risk opportunities.
Wash hands often with soap and warm water for at least 20 seconds. If a sink isn't available, use a hand sanitizer that contains at least 60% alcohol.
Avoid surfaces that are touched often, such as doorknobs, handrails, and playground equipment. Most outdoor bathroom facilities are not open. Plan accordingly.
Please leash your dog! They are members of your household and need to keep their social distance as well (and most standard leashes are 6 feet in length).
Importantly, please AVOID HIGH USE AREAS when you are choosing where to recreate.
If you see a lot of cars at a trailhead, try a different trail or go during a less busy time of day.
PLEASE NOTE: Visitors to Vermont are required to quarantine for 14 days or 7 days and a negative COVID-19 test before visiting public spaces, including trails. Visitors to New Hampshire from outside New England are also require to quarantine. Please abide by the directives for each state.
Tips for finding the right trail for you:
Find Trails Search function
Instead of going to the same trail you always visit (and that all your neighbors visit too!), try finding a new trail. You can search by trail activity, length, or location. Visit our Find Trails Page to start searching!
Search by Trail Status
Some trails have been closed. Use the search by trail status function to only search for open trails or find out which trails have been closed.
*Although we keep this information as up-to-date as possible, it is always a good idea to double check on the trail manager's website, listed at the bottom of every trail posting, to confirm that the trail is open for use.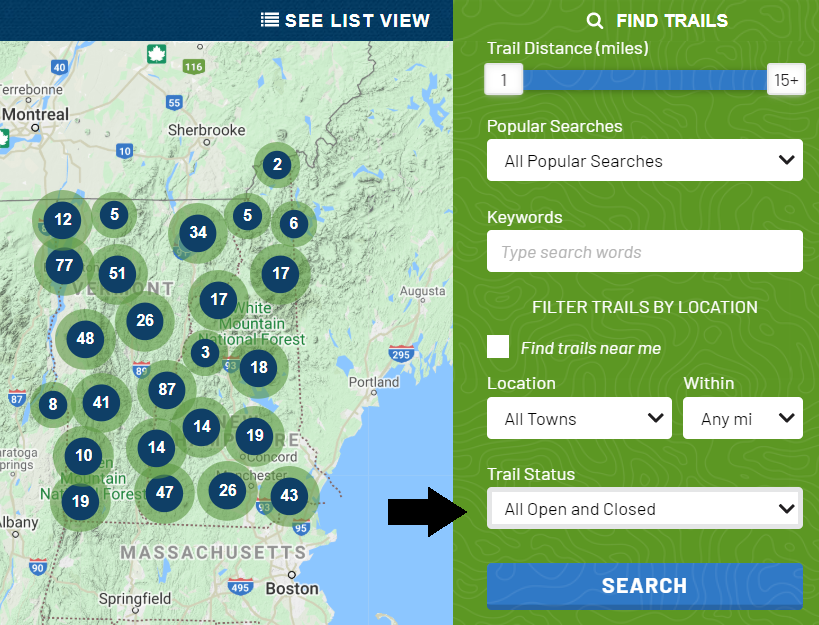 Connector Trails
Use the "View Connector Trails" feature on the trail map to see if you could bike to the trailhead or park elsewhere to avoid busy parking lots.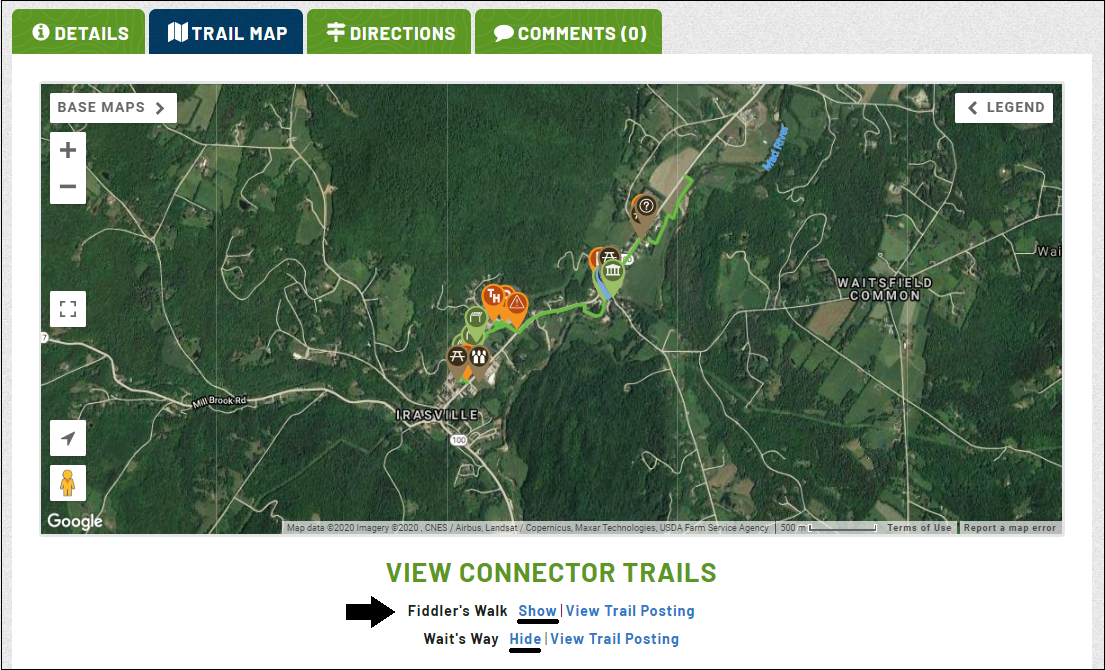 Trail manager Information
Some trails have had to close because of high use and people congregating. Check the trail manager's website, which is linked at the bottom of every trail posting, to make sure the trail is open.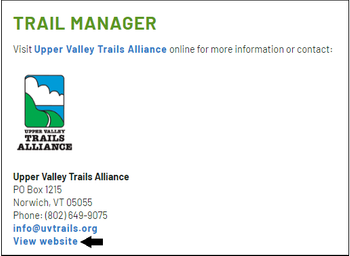 Stay safe and be well.